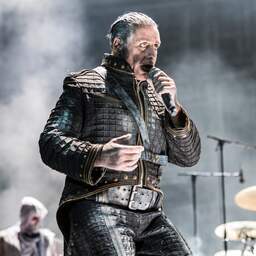 ---
03 Jun 2023 at 16:41
The number of accusations against Till Lindemann, lead singer of Rammstein, is increasing. Several female fans of the German metal band accuse Lindemann of sexual abuse. This is what's going on.
The ball was set in motion last week after a Rammstein concert in Vilnius, Lithuania. An Irish fan accused the band of drugging. Afterward, she was allegedly invited to have sex with Lindemann, who allegedly stormed off when she told him a "no". The band denied the incident, but since then several women have told similar stories to Süddeutsche Zeitung and NDR.
A similarity between those stories: (young) female fans would be systematically chosen to have sex with Lindemann. This would follow a fixed pattern: fans are approached via Instagram prior to a concert, or at the concert itself. Those who receive a notice in advance are asked to dress sexy. A Rammstein shirt will not be accepted.
The invitation is for at least two things: a seat on 'row zero' at the concert (a special place close to the stage) and an invitation to an after party. At the parties, the women are served alcohol and drugs. According to one of the women, there is an important condition for participation: interest in having sex with Lindemann.
Unfortunately, this content cannot be displayed. We do not have permission for the necessary cookies. Accept the cookies to view this content.
Change cookie settings
Until bleeding
One of the women, the anonymized Cynthia A., says she was abused by the Rammstein lead singer. According to her, it happened quickly, violently and to the point of bleeding. "But I didn't want to say no, because it was Till Lindemann," said the woman.
Another fan, then 21-year-old Kaya R., regained consciousness in a hotel after an after party. Lindemann then lay on top of her. The woman would then have asked if he wanted to stop, although she says she does not know what he was doing. The next day she asked to speak with the singer, because she wanted to know if he had used a condom.
Both women went to Rammstein concerts again afterwards and also went to after parties. "It was a kind of defense mechanism," says Kaya R. about it. "I lied to myself and said I just wanted to have fun."
No response yet from Rammstein
The journalists from Süddeutsche Zeitung and NDR also spoke to other witnesses in addition to the two women. They also own chat messages between women and representatives of the band. Those messages would confirm parts of the allegations.
Rammstein himself has not yet responded to the investigation of the two German media. The metal band did respond briefly to the Irish fan's accusation that started it all. The band denied the incident and said it was not aware of any investigation.
Till Lindemann's publishing house decided yesterday to put an end to the collaboration. Kiepenheuer & Witsch pointed, among other things, to a leaked porn video of the Rammstein singer as the reason for the break. In the video, Lindemann is said to be celebrating sexual violence against women.
Unfortunately, this content cannot be displayed. We do not have permission for the necessary cookies. Accept the cookies to view this content.
Change cookie settings
---
---