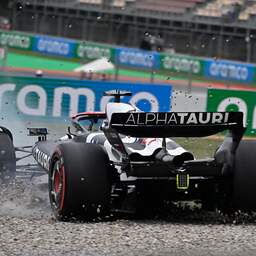 ---
Jun 03, 2023 at 7:34 PMUpdate: 6 hours ago
Nyck de Vries did not have a good feeling about his fourteenth place in qualifying for the Spanish Grand Prix. The Dutchman made it to Q2 on Saturday despite two spins, but was unable to improve after that because he no longer had new tires available.
"I'm disappointed with our qualifying," said 28-year-old De Vries in the Circuit de Barcelona-Catalunya paddock. "It went pretty well all weekend, but my two spins coming out of turn 11 made me go through my tires too quickly, so I didn't have enough new tires left for Q2 and I didn't have a realistic chance to move up. qualify."
De Vries was surprised twice in Q1 on the partly wet asphalt. "The tarmac I spun on turned out to be damp, but I couldn't see that from the car," he explained.
"The damp spots were literally invisible. I had no idea what was happening in the car either. The track was dry everywhere, but not there. On my third attempt I took it easy on that point to make sure I didn't would purr."
According to De Vries, a place in the top twelve would have been realistic if he had new tires left in Q2. The driver from Sneek hopes to fight his way forward on Sunday. "It will be a long race with a lot of tire wear and possibly also rain. We have to stay out of trouble and take the opportunities that present themselves."
Max Verstappen took pole position in dominant fashion for the Spanish Grand Prix. Carlos Sainz finished second in qualifying and Lando Norris rounded out the top three. The race in Barcelona starts at 3 p.m. on Sunday.
Unfortunately, this content cannot be displayed. We do not have permission for the necessary cookies. Accept the cookies to view this content.
Change cookie settings
---
---