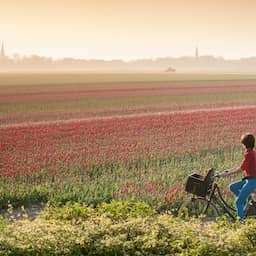 The day starts in many places with cloud fields, but later in the afternoon there is more room for the sun. It will then be 14 to 21 degrees.
At the beginning of the day there is a moderate wind that turns to the northeast. Later in the afternoon there will be an alternation of clouds and sunny periods, and it will remain dry in many places. It is especially sunny in the southern provinces.
In the northern coastal area it will be 14 or 15 degrees. The northeasterly wind is moderate, but sometimes powerful at sea. In parts of North Brabant and Limburg it will be 21 degrees. In Utrecht, Overijssel and Gelderland the temperature is between 19 and 20 degrees.
Tonight it will remain dry in many places. During the night to Saturday there is little wind and the temperature is between 8 and 11 degrees.
There is also plenty of room for the sun at the weekend. The temperature will rise to 18 or 19 degrees in the north on Saturday. In South Limburg it will be 25 degrees. On Sunday the sun will shine in most places, but there will be clouds from the North Sea again.
---
---