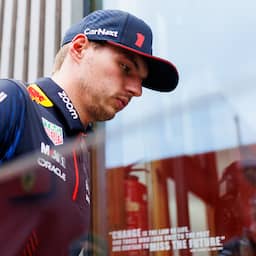 ---
Jun 02, 2023 at 07:59Update: 3 minutes ago
Max Verstappen and the Dutch Grand Prix have to look for a new lender. Jumbo will stop as a sponsor at the end of this year, says the new CEO Ton van Veen to the AD on Friday. The supermarket chain may also say goodbye to the skating and cycling team earlier.
Jumbo has been associated with Verstappen for ten years and also plays an important role in the Dutch Grand Prix, which returned to the Formula 1 calendar in 2021 after 36 years.
"Max is of course a folk hero, but he acts on the absolute world stage. We are a very good food retailer, but only in the Netherlands and a little in Belgium," says Van Veen about the choice to stop sponsoring Formula 1 at the end of 2023 1.
"We annually invest more than 20 million euros in sports sponsorship, but I can only spend every euro once. We cannot return the money that goes to Max to the customer, or put it into sustainability or health."
At the end of March it became clear that Jumbo is in the process of withdrawing from top sport. Then it came out that the supermarket chain will stop sponsoring the Jumbo-Visma skating and cycling team after 2024.
Perhaps also farewell to skating and cycling earlier
Van Veen also says that Jumbo is considering leaving skating and cycling at the end of this year if a new lender reports early.
Jumbo has had a turbulent time. Van Veen's predecessor Frits van Eerd withdrew from the company in March 2022 due to alleged involvement in a money laundering case.
His father and CEO Karel van Eerd died in December at the age of 84. He was a great sports fan and at the end of 2014 took the initiative to invest in skating and cycling.
At the beginning of this year, Jumbo already decided to stop as a sponsor in motorsport. The involvement in motorsport also came to an end at that time. Now Verstappen also has to look for a new lender.
---
---