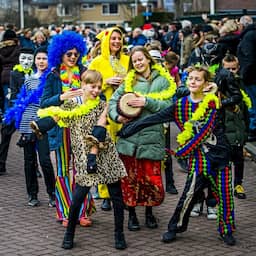 The flow test for group 8 will fall exactly during the carnival period next year. The ministry's suggestion to the schools to postpone the activities can count on little appreciation in Brabant and Limburg.
This article is from Trouw. Every day a selection of the best articles from the newspapers and magazines appears on NU.nl. You can read more about that here.
With a vote of 52-1, the Provincial Council of North Brabant adopted the motion in defense of carnival on Friday. The core: culture and heritage deputy Stijn Smeulders, as the Wiedeweerga minister of education Dennis Wiersma, must present a copy of Anton van Duinkerken's Defense of Carnival (from 1928) and insist on an extension of the review period.
A similar motion made it almost as gloriously in Limburg on Tuesday. The political interference comes on top of the letters that schools and carnival organizations have already sent to The Hague. Because apparently, so they find in the south, the ministry considers carnival as an insignificant party. "While it is intangible heritage," says Bart Maes of the Samewirkende Limburgse Vastelaovesvereniginge.
Unlucky scheduling
The anger is one that came in two parts. First there was the unfortunate planning of the transfer test: in the first two full weeks of February, next year right around carnival. In addition, the ministry responded to objectionable schools. 'Unfortunately, your school has no choice but to adjust the holiday and event planning during that period.' Board chairman Stef Niekamp of the school umbrella organization Kom-Leren did not know what he was reading. "Carnival is a Catholic party that is celebrated worldwide on the same days. You can't move that, can you? I just have no words for it."
The reaction shows once again that they have little feeling for southern traditions in the Randstad, says deputy Smeulders. "There is probably an official there who has little interest in carnival. But as a ministry you can't radiate this, can you? There are plenty of activities at school around carnival, associations and music bands are already very active the week before. That is not the most quiet week to to perform."
Carnival is not an event
In the meantime, the officials are busy with it, because various members have also asked critical questions from the House of Representatives. As long as they have not been answered, the spokesperson for Minister Wiersma does not want to say much about the matter. "Except that there is a false idea that the transfer test really takes two weeks. It can be taken in two half-days. Then it is best to do so in the week before carnival. We should have worded our letter to the schools differently."
Although Maes is not a party to the matter ('It is something between the ministry and the schools'), this explanation also causes bad blood. "Carnival is more than a few days of celebration. The period beforehand is all about traditions, songs, dialect. Those days are just as important and you can't test them. In Germany, the Rhenish carnival has Unesco status, which is not for nothing. It is about folk culture. From a ministry that also includes culture, I did not expect it to step over this so lightly. Carnival is now labeled as an event."
'Move the end key'
Nikamp is convinced that the minister will come to his senses. "It can simply be recovered, it is not that complicated to choose a slightly different period on the annual calendar. Just bring it forward a week. It is strange that we are now being pushed into this position, but there will be a lot of resistance if it remains as it is now. You can't get around carnival. And you can't move it either, it doesn't work that way."
In North Brabant, Smeulders is already looking forward to implementing the 'fantastic motion' of the Provincial Council. "I will do that with great enthusiasm, perhaps together with my colleague from Limburg. I will explain to the minister that moving carnival is not so appropriate and invite him to come and celebrate the party here in February. And I would think that the agenda would be enough leaves room to hold the final test at another time. Then it's fixed, right?"
Unfortunately, this content cannot be displayed. We do not have permission for the necessary cookies. Accept the cookies to view this content.
Change cookie settings
---
---