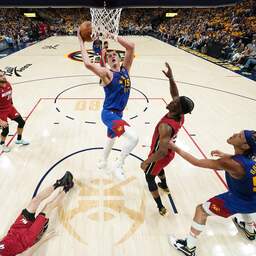 ---
Jun 02, 2023 at 07:27Update: 3 minutes ago
Denver Nuggets handed out the first tap in the NBA Finals on Friday. Led by star player Nikola Jokic, the Miami Heat was put aside 104-93 in Denver.
The Nuggets laid the groundwork for the win in the first three quarters. Jokic was once again the most valuable player with 27 points, 10 rebounds and 14 assists. Jamal Murray (26 points, 6 rebounds, 10 assists) was also on target.
Last month, Denver Nuggets reached the Finals by knocking out star LeBron James' Los Angeles Lakers. The Nuggets have never been champions and have never been in the finals at all.
The Miami Heat almost handed over a seemingly certain final ticket in the semi-final. In the best-of-seven series against Boston Celtic, a 3-0 lead was given away, but the decisive seventh meeting was still won.
The team from Miami is in the NBA Finals for the seventh time. This resulted in the title in 2006, 2012 and 2013. In 2011, 2014 and 2020, the championship was missed.
The second game in the best-of-seven series between Denver Nuggets and Miami Heat is in the night from Sunday to Monday. Last year, the Golden State Warriors won the NBA championship by beating the Boston Celtics in the final.
---
---