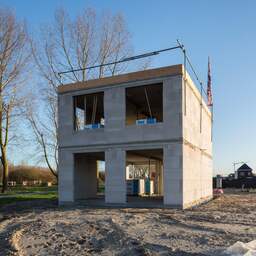 ---
Jun 02, 2023 at 3:57 PMUpdate: 3 minutes ago
Just before the deadline, the municipality of Almere submitted a plan to arrange housing for status holders. Flevoland had given Almere until June 2 to come up with a plan. Otherwise, the province itself threatened to designate homes at the expense of the municipality.
Status holders are asylum seekers who are allowed to stay in the Netherlands. They are entitled to housing. But due to the general housing shortage in the Netherlands, this is difficult. As a result, many status holders are still in the overcrowded asylum seekers centres.
Almere still has to link hundreds of status holders to a house this year. The municipality had already been postponed three times in making a plan. An earlier draft plan was withdrawn because the municipality first wanted to gain support from the city council and housing corporations.
The plan is now ready, exactly on the day the province's ultimatum expired. According to a spokesman for the municipality, Almere has sent the plans to house about 550 status holders this year to the province and the city council.
Almere wants, among other things, to have a thousand flexible homes built in four years and to buy existing homes in order to accommodate status holders. The municipality chooses to spread the asylum seekers with a residence permit as much as possible over the city, in order to promote integration.
Councilor critical of state of affairs
Alderman Froukje de Jonge emphasizes that she does not want to give status holders priority when allocating homes if there are also other urgent home seekers. "We don't think it's fair that one group, which has been excluded by the government, always takes precedence by definition," says De Jonge.
"Urgency is a many-headed monster and almost always has heartbreaking reasons. We, and especially the housing associations that actually make the appropriate allocation, want to have the space to see who is most urgent."
The alderman was recently critical of the state of affairs in a meeting with the city council. "At the end of May, we were slapped with a 30 percent increase in terms of the tasks assigned to status holders. There was no consultation possible, we have to do it. We are thrown a problem at our feet: namely, a good that is much too scarce and a much too high ask about that."
---
---