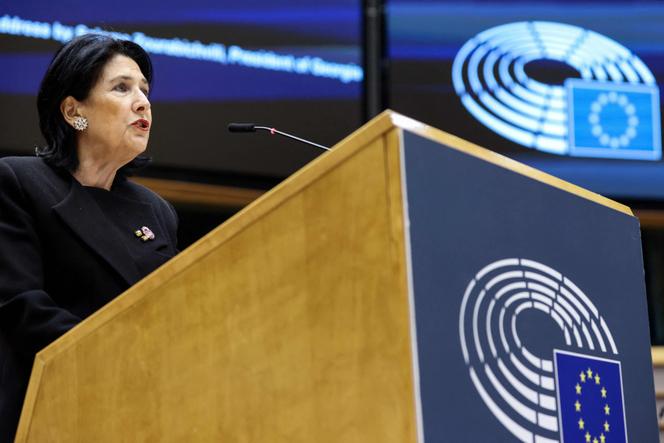 Georgian President Salomé Zurabishvili, in Brussels, May 31, 2023. KENZO TRIBOUILLARD / AFP
" Maintain Georgia on its way Europe is vital for us, but it is just as important for Europe. Georgian President Salomé Zurabishvili was in Brussels on Wednesday May 31 to plead for her country's rapprochement with the European Union (EU), a prospect threatened by Russia's growing influence over this former Soviet republic.
The visit of the Head of State comes a few months before the decision of the Twenty-Seven on the granting or not of the status of official candidate to the EU. Georgia was denied this status in June 2022, unlike Ukraine and Moldova. The European Commission has given him twelve recommendations to implement before the re-examination of his file by Brussels, which will decide in December.
During her trip, Ms Zourabichvili met one-on-one with the highest EU officials: the President of the European Council, Charles Michel, the President of the European Commission, Ursula von der Leyen, and the President of the European Parliament, Roberta Metsola. These meetings aim to support the pro-European commitment of the president, despite her very limited powers in her country, whose system has been parliamentary since a constitutional reform launched in 2018.
Read also: Article reserved for our subscribers Georgia's European future on hold
Faced with the increasingly openly pro-Russian orientation of the Georgian government since the invasion of Ukraine, Europeans consider Ms Zurabishvili as an ally to prevent Georgia from falling into the orbit of the Kremlin, in the midst of the war in Ukraine. . "I salute your strong commitment to Georgia's European perspective and look forward to continuing to work with you," insisted Ms von der Leyen. Charles Michel underlined that progress was needed regarding the reform of the judiciary, the freedom of the press and of civil society, the deoligarchisation and depolarisation of political life.
Manifestations antirusses
For a year and a half, the signs of rapprochement between Moscow and Tbilisi have multiplied, to the chagrin of the population, 80% pro-European and still traumatized by the 2008 war with Russia. After the invasion of Ukraine, the government thus refused to adopt economic sanctions against Moscow, judging them contrary to its national interests. The head of Russian diplomacy, Sergei Lavrov, immediately congratulated him for his "courage" and his "resistance to Western pressure". He also said he hoped for the restoration, "in the near future", of direct flights between Russia and Georgia, interrupted since 2019. This wish was granted on May 10 by a decree signed by Vladimir Putin. The Kremlin chief also gave the go-ahead for a ninety-day visa-free regime for Georgian citizens traveling to Russia.
You have 39.48% of this article left to read. The following is for subscribers only.
---
---