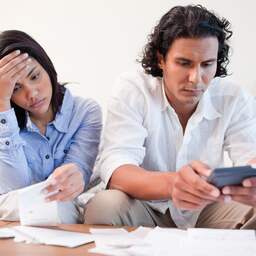 ---
01 Jun 2023 at 05:10 Update: 12 minutes ago
People who want to buy their first home can ignore the mortgage advisor and turn to a robot advisor. A computer model from De Hypotheekshop tells them which mortgage they should take out from which bank based on an algorithm.
This new form of mortgage advice is for starters who are employed. They are asked questions in an online mortgage program about what they find important.
This concerns, for example, whether they want a current account with a large bank in exchange for an interest discount and how important paying off without penalty is for them. They also specify their budget.
"It is a two to three hour program. When you have completed it completely, an algorithm calculates all 70,000 options at 35 banks," says Martin Hagedoorn of De Hypotheekshop.
The robot adviser then provides advice for one lender and one fixed-interest period. So the algorithm does not show more options.
The customer then determines whether he agrees. In that case, a consultant from a De Hypotheekshop office will arrange the mortgage with the bank. If you have any questions, a customer can contact the office. If you still want partial human advice, you have to pay extra.
Save money by not having a mortgage interview
Because no human mortgage advisor is involved, the robot advice is cheaper. Starters pay 1,295 euros for the robot, compared to the 2,500 euros that traditional advice from De Hypotheekshop usually costs.
The fact that De Hypotheekshop still charges 1,295 euros is, according to Hagedoorn, due to the adviser's arrangements afterwards and the closing costs.
At some banks you can already take out a mortgage without talking to a mortgage advisor. In that case, you skip the mortgage advice, you do not compare mortgages and you pay 300 to 800 euros closing costs. That's called execution-only.
You do have to take a knowledge test for this, because the AFM does not consider it responsible for everyone to take out a mortgage independently. Through such a knowledge test, the supervisor checks whether the immediate closure fits the knowledge and experience of you as a customer.
'Knowledge test not necessary for robot advice'
Hagedoorn sees a big difference with execution only, because with robot advice "you are taken by the hand in the online mortgage module. With execution only you really have to think of everything yourself." That is why he does not think a knowledge test is necessary.
De Hypotheekshop is not afraid that the company will make its own advisers superfluous. Hagedoorn: "We think that mortgage advice will increasingly be partially online. And that robot advice is a solution for simple mortgages for starters in paid employment. Our advisers can then work on the more difficult advice. And offices will play a role in checking the advice and aftercare while the mortgage is running."
---
---