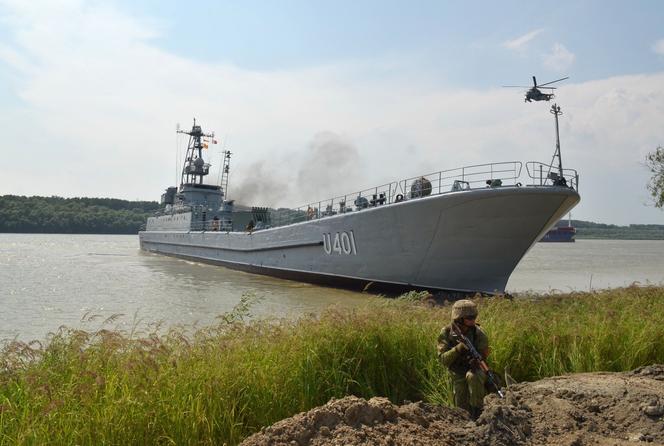 The Ukrainian warship "Yuri Olefirenko", in July 2016. UKRAINIAN ARMY
The military loss is minor but it is symbolic. Russia announced on Wednesday May 31 that it had destroyed in Odessa, a port city located in southern Ukraine, a landing ship presented as the last survivor of the Ukrainian war fleet. "The 29 [mai]as a result of a high-precision weapons strike (…) on the mooring area of ​​military boats in the port of Odessa, the last warship of the Ukrainian Navy, the Yuri Olefirenko, was destroyed the Russian Defense Ministry said in a statement.
Built in the early 1970s in Gdansk, Poland, this troop transport ship, used several times after the conflict began, had been hidden for months by Ukrainian forces. According to information posted on Russian social networks but impossible to confirm, the Yuri Olefirenko was hit by a missile, causing a fire and the explosion of ammunition contained in the holds of the building (81 meters long, 1,200 tons). Questioned by Agence France-Presse, the spokesman for the Ukrainian naval forces, Oleh Tchalyk, did not formally deny the loss of the ship, but called not to "pay attention" to Russian sources.
The only certainty is that this announcement comes against a backdrop of growing tensions in the Black Sea. While military operations there were as if frozen, Ukraine attacked, on May 24, a Russian surveillance and intelligence vessel, the Ivan Khurs. Going up from the Mediterranean Sea and just out of the Bosphorus Strait, the building (95 meters, 4,000 tons) would have been attacked by three maritime drones, more than 400 kilometers from the Ukrainian coast. Moscow claimed to have destroyed the devices but kyiv published a video showing that at least one of them had reached the ship, without it being known whether it had caused damage.
Read also: War in Ukraine, live: new tranche of military aid to kyiv of 280 million euros
On paper, Russia has a very clear superiority over Ukraine in terms of naval means. According to the Oryx site, which lists the losses of the two belligerents on the basis of visual evidence, twenty-six Ukrainian ships have been destroyed or captured by Russia since the start of the conflict, almost all of its war fleet. On March 3, 2022, the Ukrainians had in particular had to scuttle, in the port of Mykolaiv, the frigate Hetman Sahaydachniy (123 meters, 3,100 tons), flagship of their arsenal, to prevent it from falling into the hands of the Russians. The troop transport Yuri Olefirenko had itself escaped a first bombardment at sea, in June 2022.
You have 47.7% of this article left to read. The following is for subscribers only.
---
---