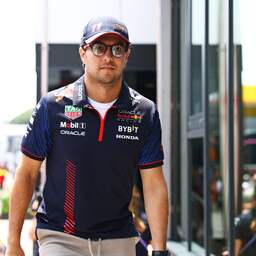 ---
Jun 01, 2023 at 5:46 PMUpdate: 10 minutes ago
Sergio Pérez is still hopeful that he can keep his Red Bull teammate Max Verstappen from winning the world title this year. The Mexican experienced another disaster weekend in Monaco a week ago, as a result of which his gap to Verstappen increased to 39 points.
"The speed is there, that's the most important thing," said Pérez on Thursday in the Red Bull Racing motorhome in the Circuit de Barcelona-Catalunya paddock. "If I had also been half a second to a full second behind after this crash, I would have been more worried."
The 33-year-old Pérez crashed in Q1 of qualifying in Monaco, forcing him to start last on the tight street circuit. During the race, Verstappen's teammate was involved in several incidents. As a result, he only crossed the finish line in sixteenth.
"We have the speed to get up there," Pérez continued. "I look at it from weekend to weekend, so next Sunday I have to show the best of myself and make sure I win."
According to Pérez, Verstappen and he have been doing little for each other all year. "Max and I are evenly matched. Sometimes I'm better, sometimes a little worse. Max is probably the toughest teammate you can have. He's the driver in form, but I firmly believe I can beat him over a whole season defeat."
'Just have to accept it'
After qualifying in Monaco, Pérez extensively analyzed what went wrong. The six-time Grand Prix winner had some trouble recovering. "It's hard, but I just have to accept it," he said. "I took my responsibility and apologized to the team. I felt like I let everyone down."
"What I learned is that we should have just slowed down a bit with everything. It was a combination of things. We decided at the last minute to still set a timed lap and then an Alpine popped up in front of me ."
According to Pérez, the Alpine caused the wind direction to change towards his car. "That surprised me. Next year in Q1 in Monaco we no longer have to make such a decision at the last minute. But the most important thing is of course that I should have responded better to that situation myself."
The first free practice for the Spanish Grand Prix starts on Friday at 1.30 pm. Qualifying is on Saturday at 4 p.m. and the race is scheduled for Sunday at 3 p.m.
---
---