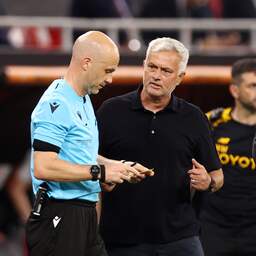 ---
01 Jun 2023 at 10:28
AS Roma coach José Mourinho lashed out at referee Anthony Taylor on Wednesday evening after the lost Europa League final against Sevilla. The trainer sought a confrontation in the parking garage of the Puskás Aréna, where he raged against the referee.
While leaving the Puskás Aréna in Budapest, Mourinho waited for the referee. "You are a disgrace," the AS Roma coach yelled at Taylor. Shortly before, AS Roma had lost to Sevilla after a penalty shootout.
Sixty-year-old Mourinho not only confronted the English referee, but also lashed out at the race management after the final. "The referee looked like a Spaniard," he told Sky Sports.
The Portuguese thought that the referee constantly whistled against AS Roma. Among other things, he disagreed with a non-awarded penalty after a handball from Sevilla and with the decisive penalty in the penalty series that had to be taken again.
"Taylor and the VAR finally made sure that everything was decided", the coach referred to Gonzalo Montiel's penalty kick, who was allowed a second chance because AS-Roma keeper Rui Patrício had left his line too early. "We think it's an unfair defeat."
At the press conference, Mourinho went the extra mile. "Taylor is such a great referee that he will only referee in the Champions League next season," he said cynically. "And I hope he makes his blunders there and not in the Europa League."
Unfortunately, this content cannot be displayed. We do not have permission for the necessary cookies. Accept the cookies to view this content.
Change cookie settings
---
---