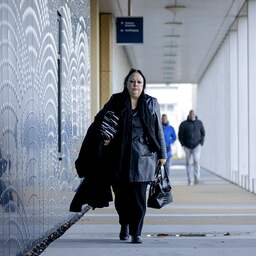 Inez Weski, 68, is released from prison. The court of Rotterdam ruled on Thursday that there is no reason to detain the lawyer any longer. She remains a suspect in the case.
Ridouan Taghi's former lawyer was arrested on April 21. The Public Prosecution Service (OM) suspects her of having passed on secret information to Taghi. She would also have passed messages from her client to his alleged criminal organization. This would have happened when he was detained in the extra-secure facility in Vught.
"The fact that she has now been released does not mean that there is no evidence or that the prosecution will be discontinued," says NU.nl crime reporter Joris Peters. "The court just sees no reason to keep her any longer. The case continues, but Weski is free."
Weski's lawyers say in a press release that she has not made a statement due to her duty of confidentiality and will not do so. "The impact of everything that has happened since April 21, 2023 is great. We urge everyone to respect their privacy."
The consequences of Weski's arrest for the Marengo trial are not yet clear. Taghi, who is the main suspect in that trial, wants to conduct his own defense for the time being. The court wants to talk to him about this. That will happen on June 19.
---
---