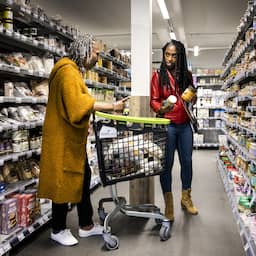 Prices are rising less and less in almost all European countries. There is one exception: the Netherlands. In our country, prices are rising faster again.
According to the European statistics agency Eurostat, life in the Netherlands was 6.8 percent more expensive last month than one year previously. Inflation was still 5.8 percent a month earlier.
Prices are rising less rapidly in most other countries. For example, inflation in Germany was 6.3 percent last month and 7.6 percent the month before. In Belgium, prices were only 2.7 percent higher last month than a year earlier, while the previous month's increase was 3.3 percent.
Eurostat does not report why inflation in the Netherlands is rising, while it is falling in other countries.
Earlier on Thursday, Statistics Netherlands reported that inflation in our country is rising again. Among other things, groceries have become a lot more expensive last month. Energy prices fell sharply. The percentage of Statistics Netherlands differs from that of Eurostat, because the statistical offices use a different calculation method.
Incidentally, the Netherlands is not the country with the highest inflation in Europe. These are Latvia and Slovakia, where prices were 12.3 percent higher than one year previously.
---
---