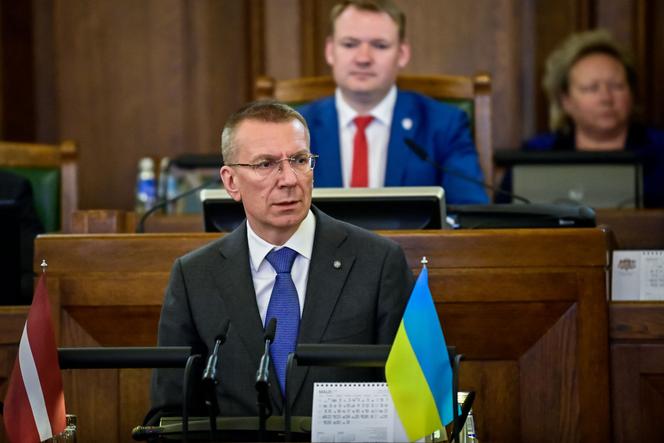 The new Latvian President, Edgars Rinkevics, in Parliament, Riga, May 31, 2023. GINTS IVUSKANS / AFP
The day after the removal of the statue of Russian poet Alexander Pushkin from Kronvalda Park in Riga, the election on Wednesday 31 May of Edgars Rinkevics, President of the Republic of Latvia, reflects the continuity in the foreign policy of this small country of less than two million inhabitants, particularly vis-à-vis Ukraine: unconditional support for Kiev, which has become the hallmark of the Baltic countries and Poland since the start of the Russian invasion, the February 24, 2022.
Elected by Parliament for a four-year term, replacing Egils Levits, Edgars Rinkevics, foreign minister since 2011, placed a long list of Russians under sanctions and strongly supported sanctions against Belarus and Russia. "Support for Ukraine, a very firm policy in the face of Russian aggression and continued active participation in NATO and the European Union will remain the cornerstones of our foreign policy, which means: " no surprises, no changes," he said shortly after his win. "Rinkevics was one of the main architects of the Latvian foreign policy strategy in terms of support for kyiv," recalls Karlis Bukovskis, director of the Latvian Institute of International Affairs.
A "true friend of Ukraine"
However, the campaign had taken an intriguing turn in recent weeks, as the parties that make up the government coalition supported different candidates. Egils Levits had first announced on April 19 that he was running for a new mandate before, suddenly, renouncing on May 10, starting from the observation that the parties of the coalition were torn over the choice of a candidate for the instead of agreeing on a common name "to consolidate the international community in order to bring the aggressor to justice". A job that the outgoing president had taken all the more to heart as he was a judge at the European Court of Human Rights, then at the Court of Justice of the European Union.
Also read: Latvia strips Russian opposition channel Dojd of license
"Given the de facto alliance that is currently developing between pro-Kremlin political forces linked to the oligarchs, I have decided not to participate in the presidential election on May 31," he said. This announcement was made the same day that the businessman Uldis Pīlens, supposed to be the beneficiary of this alliance, had officially submitted his candidacy. The Latvian media thus recalled his studies of architecture in East Germany and the time he spent, in the early 1980s, within the GRU, the intelligence services of the Soviet army, where, s Is it forbidden, he was only drawing maps.
You have 31.06% of this article left to read. The following is for subscribers only.
---
---