After the entertaining Monaco Grand Prix, the Spanish Grand Prix is ​​on the program this weekend in Barcelona. Driver Ho-Pin Tung looks ahead to the seventh race of the season.
Will the track adaptation make overtaking easier than it has been in Barcelona in recent years?
"That will depend on how much the front left tire wear is going to be and especially the difference between the different cars and drivers. Although it is a bit easier with the current cars, it remains relatively difficult to follow each other in fast corners. In qualifying "The new corners will be full throttle, but in the race that will be difficult. The left front tire has always had a hard time due to all the fast right corners and especially Turn 3, but that will be a lot worse due to the adaptation to the track."
"With the removal of the chicane, two more high-speed right-turns will be added to the circuit. That will be the biggest difference from previous years. As a result, drivers will have to constantly manage their left front tyre. Apart from the set-up of your car you can really only do that in such corners by being very accurate with the steering angle and controlling or rather limiting your speed.If you follow a car in front of you too closely, you will lose downforce.The understeer you create with that certainly don't want to have tires at all. Tires always play a major role, but that will be magnified this weekend. Everything will be dominated by the wear on the front left."
Timetable GP Spain

Friday 13:30-14:30: First free practice
Friday 5-6pm: Second free practice
Saturday 12.30-1.30 pm: Third free practice
Saturday 4-5 pm: Qualification
Sunday 3 p.m.: Race
Is Circuit de Barcelona-Catalunya a challenging track for a driver to drive on?
"Yes, I definitely think it's a nice track. It's a circuit with many fast corners and those are always the most fun for a driver to drive. Moreover, the circuit has quite a few height differences. The only disadvantage of Barcelona is that it is quite hard on the tires."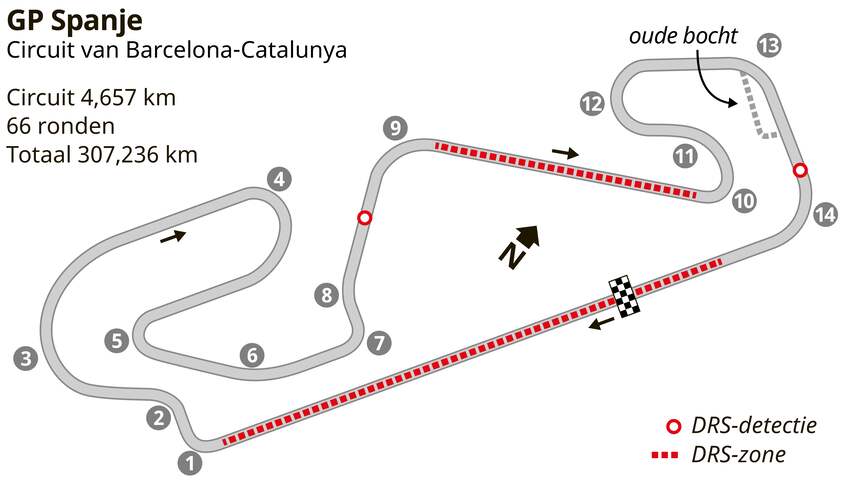 Circuit of Barcelona-Catalonia.
Whose benefit will that be?
"The cars that handle tires well. And then you automatically end up at Red Bull. Barcelona is another circuit where the difference between Red Bull and the rest can be very big. In Monaco you give the tires relatively little so-called ' stress' due to the low speeds, and we already saw there how good the Red Bull was in terms of wear. That advantage is magnified even more in Barcelona."
What else are things to keep an eye on this weekend?
"Mercedes brought a large number of updates to Monaco, but because Monaco is an atypical circuit, we can only really judge this weekend to what extent those updates work. Mercedes seemed to be at a dead end in terms of the car concept, but at the same time the car is still too fast to just throw that concept overboard. Yet they have now opted for a radically different design. I think you only do something like that if you expect your new design to be much better."
To what extent could those updates Mercedes already bring forward this weekend?
"I think they can take quite a step this weekend, knowing how well the Mercedes can handle the tires as well. In general, Mercedes struggles with one-lap speed in qualifying, but on Sunday they are relatively always "A lot better. The adaptation to the track is also beneficial for Mercedes. Behind the Red Bull drivers, a podium place for George Russell or Lewis Hamilton might then be possible."
---
---