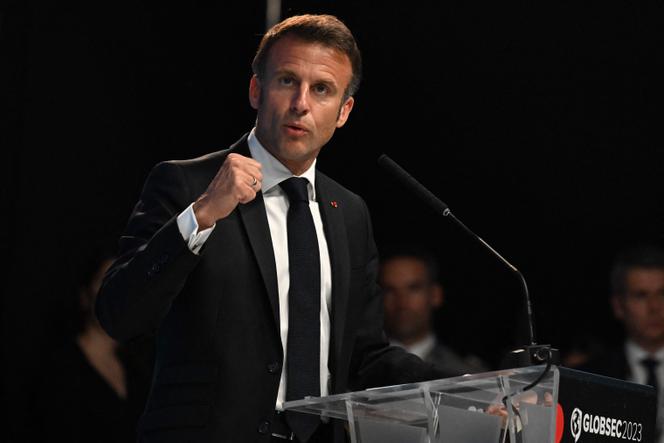 Emmanuel Macron at the Globsec forum in Bratislava, Slovakia, May 31, 2023. MICHAL CIZEK / AFP
The applause was rare at first, then flared up at the end of his speech. Emmanuel Macron tried to give pledges of his commitment to Ukraine, during a speech delivered on Wednesday May 31 in Bratislava, the capital of Slovakia, on the banks of the Danube.
Invited by the Globsec forum, a very Atlanticist meeting, the Head of State knew he was expected at the turn in this part of Europe quick to criticize his desire for dialogue – admittedly suspended since September 2022 – with Vladimir Putin, or his concern not to humiliate Russia in order to achieve, one day, a negotiated peace. Without promising Kiev's rapid accession to NATO, Emmanuel Macron placed at the heart of his diplomatic counter-offensive the delicate question of "security guarantees" supposed to perpetuate, before and after the end of hostilities, the support provided by the West. to Ukraine.
"If we want a lasting peace, to weigh in with Russia, to be credible vis-à-vis the Ukrainians, we must give Ukraine the means to prevent any new aggression and include it in [une] credible security architecture, he said. I am in favor of these guarantees being tangible and credible (…) We need to be much more ambitious than we sometimes are on these issues. »
Read also: Article reserved for our subscribers "How the war in Ukraine has (barely) changed Macron and his diplomacy"
The head of state's rather open position comes as negotiations on this subject intensify between Kiev's allies, as the NATO summit in Vilnius approaches on July 11 and 12. Addressed at the G7 in Hiroshima, Japan, the question was to be discussed again on Thursday June 1, between the foreign ministers of the Atlantic Alliance meeting in Oslo, Norway, to prepare for their next summit in Lithuania. It could also be behind the scenes of the European Political Community, whose leaders are meeting on the same day near Chisinau, in Moldova. Volodymyr Zelensky, who is a member, could also go there.
"Deterrence by Prohibition"
What is at stake is of the utmost importance: it is a matter of promising security guarantees to Ukraine, for lack of being able to integrate it at this stage into NATO, despite the official candidacy of Kiev and the support for its accession from many Central European States, Poland and the Baltic States in the lead
The heavyweights of the Alliance, starting with the United States and Germany, reject its enlargement to a country at war, because it risks dragging NATO into an open conflict with Russia overnight – because of its mutual assistance clause in the event of external aggression (Article 5). A prospect that neither Joe Biden nor Olaf Scholz nor Emmanuel Macron want, all three anxious to avoid an escalation with Moscow.
You have 64.95% of this article left to read. The following is for subscribers only.
---
---