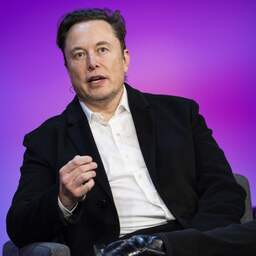 Tesla CEO and Twitter owner Elon Musk is once again the richest person on the planet. He takes over from Bernard Arnault, the French director of luxury group LVMH, known for clothing brand Louis Vuitton and Moët & Chandon champagne.
Musk's wealth is now $ 192 billion (180 billion euros). Arnault's net worth is nearly $187 billion.
The two billionaires have exchanged top positions in the rich list of Bloomberg Billionaires Index since the end of last year.
The fact that Musk is suddenly the richest again is because LVMH shares fell 2.6 percent in value on Wednesday and so did the wealth of 74-year-old Arnault.
The wealth of 51-year-old Musk already grew by $ 55 billion this year, mainly because the value of Tesla shares increased significantly. Since the beginning of this year, Tesla's share price has risen by 88 percent.
---
---