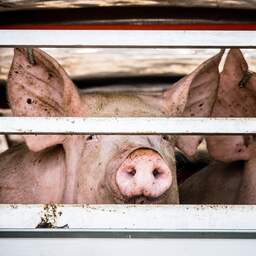 ---
May 31, 2023 at 8:19 PMUpdate: 4 hours ago
Slaughterhouses will be placed under stricter supervision to combat "structural animal abuse" in the sector. Minister Piet Adema (Agriculture, Nature and Food Quality) said this in the House of Representatives on Wednesday.
Adema presents various measures for slaughterhouses. These include mandatory camera surveillance and a ban on the use of electroshock weapons. He also wants to punish abuses more severely.
From September it will be possible to close companies after three serious violations. That is what the House of Representatives had asked for.
MPs Sandra Beckerman (SP) and Eva Akerboom (Party for the Animals) responded positively. But Akkerboom thought it would take a long time for the measures to take effect. Beckerman wondered whether the measures would be sufficient to put an end to the abuses.
Last week, the Dutch Food and Consumer Product Safety Authority (NVWA) reported that things still often go wrong at slaughterhouses. In the first six months of 2022, the regulator counted 5,700 shortcomings at the 39 large Dutch red meat and poultry slaughterhouses.
In most cases, it was due to poor hygiene, for example because intestinal contents were found on carcasses. More than fourteen hundred reports related to animal welfare.
Also problems within NVWA
The NVWA itself also has problems. Whistleblowers within the organization told current affairs program EenVandaag last month that veterinarians and inspectors who want to act against animal abuse feel hindered.
Adema said a lot is happening to improve the organization, but it is "not good yet". He pointed out that there are talks with professional support between the NVWA management and employees.
---
---