By Jeroen van Barneveld
---
May 31, 2023 at 6:05 PMUpdate: 4 minutes ago
Two months before the start of the World Cup in Australia and New Zealand, the KNVB and other football associations came into conflict with European top clubs about the surrender of players. National coach Andries Jonker announced this on Wednesday after the announcement of the pre-selection.
As a result, it is still uncertain whether seven players will be allowed to report in Zeist on June 19 for the start of the World Cup preparation. Jonker did not want to say which clubs and players are involved. He only let go that it concerns "clubs from the major football countries".
According to Jonker, the quarrel arose when the clubs of world football association FIFA received the playing calendar for 2024. European Championship qualifiers (July 8-16) and the Olympic Games in Paris (July 25-August 10) are scheduled in quick succession in the summer. The clubs fear overload and serious injuries, a constantly recurring item in women's football.
The clubs are now making a statement out of dissatisfaction with the overcrowded FIFA calendar. They refuse to hand over the internationals to the World Cup participants on June 19, but only on June 23. That is against the sore leg of, among others, Jonker, who wants to start the World Cup preparation on June 19 and who had initially also short-circuited with the clubs. His preparation is now in danger of being disrupted.
The Netherlands had already scheduled an exhibition game with the boys' team on June 25. According to Jonker, if players are not allowed to come until June 23, they can make fewer minutes. In addition, hotel bookings had already been made, various media and sponsor meetings had been scheduled and television contracts had been concluded. They are all undermined by the statement of the clubs.
Schedule Orange direction and during World Cup
June 19: World Cup preparations start in Zeist June 27-July 4: training camp in Horst July 2: Dutch-Belgium exhibition match in Kerkrade July 9-17: training camp in Sydney July 23: Netherlands-Portugal in Dunedin (World Cup match 1) 27 July: US-Netherlands in Wellington (World Cup match 2) August 1: Vietnam-Netherlands in Dunedin (World Cup match 3)
'The emotions are running out'
Jonker is fed up with the situation. "In my opinion, it is about putting the interests of the players first. Then you will probably end up with the unions, clubs and FIFA in the same way. But you have to talk to each other and not fight each other. This is wasted time and energy."
According to Jonker, emotions are running high behind the scenes. Top men Jan Dirk van der Zee, Nigel de Jong and Gijs de Jong are involved in the talks on behalf of the KNVB. "One club even said to us: 'We don't have to formally hand over our players until July 10. If you don't pay them until then, we'll give them vacation.'" Jonker did not want to say which club is demanding compensation.
"I called a player from another club. The club told her: 'You don't start with your country until June 23, because your teammate is injured.' What is this about? You can imagine how I feel about this. I'm hanging on a string."
The national coach could not hide his irritation at the state of affairs. "Time is running out. We've been talking about this intensively for two weeks. This is a big thing, especially in England and Germany. Emotions are running high now. I'm telling you very calmly, but it also affects us."
"The atmosphere around a World Cup must be positive. The tournament must give an impulse to women's football. That is not the case now and that is a pity. The people who make policy should think more carefully. What are they doing now? "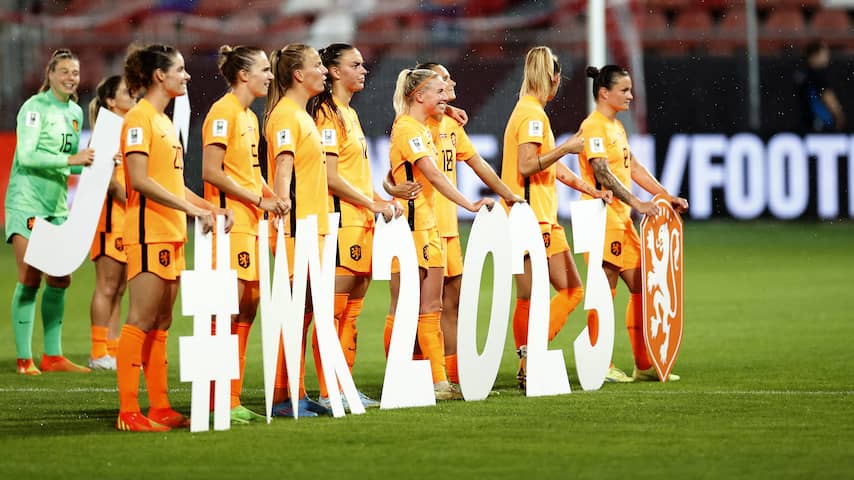 The Orange Women qualified for the World Cup in September. Photo: ANP
"I'm not happy with the calendar either"
Jonker does understand the point of view of the clubs. "I am also not happy with the calendar for 2024. No country is. But the unions and the clubs should work together. It is not convenient that you are going to fight each other."
Basic players Jill Roord, Dominique Janssen, Lynn Wilms (all VfL Wolfsburg) and Lineth Beerensteyn (Juventus) will not report in Zeist on June 19 anyway. They get longer holidays from Jonker because their season is longer.
Roord, Janssen and Wilms will play the final of the Champions League against FC Barcelona with Wolfsburg on Saturday. That game will be played in Eindhoven. Beerensteyn plays the Italian cup final against AS Roma with Juventus a day later. In principle, all internationals have three weeks of vacation.
Jonker hopes that there will be clarity soon. "All players have planned their holiday in such a way that they will be in Zeist on June 19. They are not yet very bothered by it. I also told them: go on holiday, you will hear it. But don't say that you must go to Efteling on June 19."
---
---