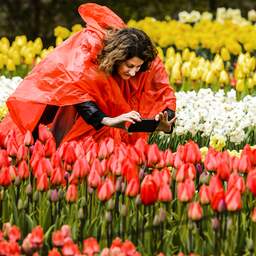 ---
May 31, 2023 at 9:04 PM
Spring was soaking wet this year and will go down in history as one of the wettest in recent memory. The last time that much precipitation fell was in 1983, Weerplaza reports. It was especially hit in March, but extremes are part of that month.
The wet part was mainly in the first half of spring; in March and April it rained much more than usual. In those months, 98 and 79 millimeters of precipitation fell respectively, while 56 and 41 millimeters are normal for that time.
The first month in particular stands out: it was the sixth wettest March ever. So soaking wet, while the same month last year was still bone dry. "It is actually quite normal that it is so exceptional. Those extremes historically belong to the month of March," explains NU.nl climate reporter Rolf Schuttenhelm.
While the first two months of the meteorological spring were soaking wet, May was drier than normal. Particularly in the middle of the month, the weather turned. In the past two weeks, there has been no precipitation except for a single local shower.
Although the last two weeks have been bone dry, there are no worries about drought for the time being. "The groundwater levels are very favorable through the winter and the beginning of spring," says Schuttenhelm.
It felt like rotten spring
In terms of temperatures, the spring of 2023 was less abnormal. According to Weerplaza, it was a fraction on the cold side with an average of 9.7 degrees: the annual average is 0.2 degrees higher.
April in particular fell a lot of people raw on the roof. It was one degree colder than normal that month and it also rained more often than usual. "People then really had the feeling that it was a rotten spring," says Schuttenhelm.
Spring warms up the fastest of all seasons
Although that feeling was correct compared to the past few years, it is different when you look at the longer term. "People thought it was a cold spring, but it was actually a warm spring compared to the twentieth century."
Springs are now on average 1.5 degrees warmer than thirty years ago. This makes spring the season that has warmed the most in recent decades. One of the reasons for this is that springs have become sunnier.
"That is partly because the air is less polluted. That was really a mess in the seventies and eighties," says Schuttenhelm. "That is now less, so there is less fog and low clouds. As a result, there is more room for the sun."
---
---