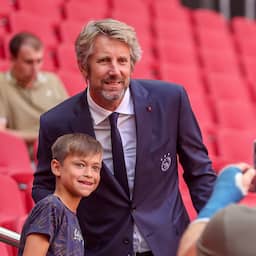 ---
May 30, 2023 at 4:38 PM
Edwin van der Sar explained his departure as general director at Ajax on Tuesday. Not only the disastrous season of the record champion, but also the constant pressure has made him decide to retire.
"As general manager you have constant pressure on you. In that respect, the things that Johan Cruijff said when he asked me have become true. At a certain point it is enough and then you have to look at yourself," Van der Sar said in his last interview with Ajax TV.
Van der Sar announced earlier on Tuesday that he would leave the Ajax board after eleven years. The 52-year-old former goalkeeper had been general manager of the club since November 2016, who performed disappointingly last season. Van der Sar says he is "finished".
Van der Sar's decision to retire was a combination of factors. "You go crazy, you are constantly busy with your phone, you have appointments, there are things that don't work out, you are summoned for difficult matters or you have to make difficult decisions."
"You don't run away from that. I have put a lot of time, energy and strength into it. Not only in the Netherlands, also abroad. They are just not as visible as performances on the field. Hopefully we will go there in the future see the results."
Van der Sar: 'Just nothing for now'
There were great successes under Van der Sar's leadership, such as reaching the semi-finals of the Champions League in 2019. This year did not go well for the 36-time national champion, who finished third in the Eredivisie despite substantial investments.
"I was looking for a good time to say goodbye. You prefer to do it with a bowl or something else beautiful. But it didn't turn out what we hoped and expected this year. That hurts. Not only with me, but also with the supporters, players and the trainer."
Van der Sar experienced his parting with his colleagues as emotional. "It's a bit like the situation with players who want to take a step. Then you also try to persuade them to stay a year longer. But it feels good for now. I had to make this decision for me and my environment."
Van der Sar will remain available for transfer and advice until August. "What am I going to do next? Nothing for a while. I'm just done. I've been through a lot. Good things and less good things. That has come to a low point in recent days, but I am grateful that I was able to do this for eleven years at Ajax."
---
---