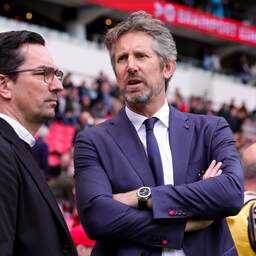 ---
May 30, 2023 at 10:18 Update: 4 minutes ago
Pier Eringa is disappointed with the departure of general director Edwin van der Sar from Ajax. The chairman of the supervisory board is grateful for the work that has been done in recent years and still saw a future for the former top keeper.
Under the leadership of Van der Sar, who had been in office since November 2016 and resigned on Tuesday, Ajax fell into decline this season. The decline started after the departure of director of football affairs Marc Overmars and success coach Erik ten Hag.
"I was surprised. I can't quite look into his head. But I think he was so professional to wait for the season," says SB chairman Eringa about Van der Sar's decision to leave.
"I could ask nicely and not ask nicely. I could jump high or low. But his decision was firm. But as far as we are concerned, he could have continued. I see a huge upward trend in recent years. It would be naive to only go to watch last season."
Receive notifications of important developments around AjaxStay informed with notifications
'Ajax has grown enormously'
According to Eringa, Van der Sar has done a good job. "The club has experienced many successes, has grown enormously and has also gained international prestige. His duties will be taken over by the current management. Edwin will remain available for transfer and advice until August."
Eringa hopes to have the Ajax management back in order soon. "Soon after August 1, we expect to be able to announce the new management composition. Our ambition is to add someone with an Ajax background to the top."
Ajax lost 3-1 at FC Twente in the last Eredivisie round on Sunday and finished very disappointingly in third. That means that the team from Amsterdam will not play in the Champions League next season.
---
---