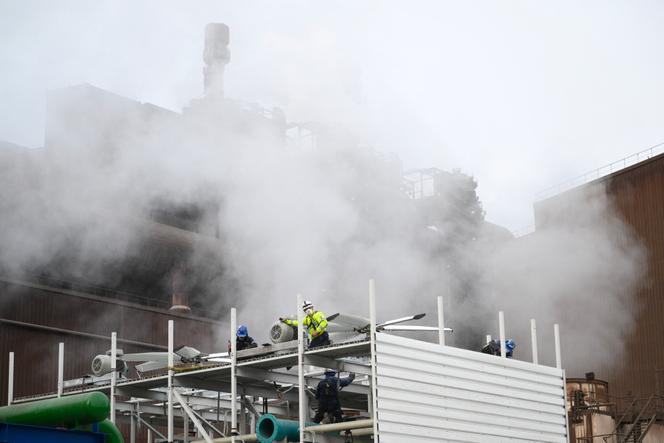 In Fos-sur-Mer (Bouches-du-Rhône), an ArcelorMittal factory has adopted a plan to reduce its carbon footprint by up to 35% by 2030. Here on February 22, 2023. CHRISTOPHE SIMON / AFP
It's a thirty-year story that amounts to billions of euros. Thirty long years which will not go down in the annals of the European Union (EU) as the most glorious in its fight against global warming. Three decades during which the most polluting industries of the Old Continent – ​​steel, cement, oil, aluminum and others – will have received free CO2 emission quotas, a kind of "rights to pollute" supposed to be reduced over time, in order to encourage them to reduce their greenhouse gas emissions.
However, the device was quickly diverted from its purpose to become a financial tool allowing its beneficiaries to increase their profits, thanks to the resale of these quotas. Between 2013 and 2021 alone, estimates the World Wide Fund for Nature, the biggest emitting industries pocketed 98.5 billion euros and spent only a quarter of this sum (25 billion euros) on climate action.
The system of free quotas, launched on January 1, 2005 and still in force, is set to disappear in 2034. On April 18, the European Parliament adopted a new plan for the climate providing for its gradual replacement by a "mechanism of carbon adjustment at the Union's borders, with the aim of greening, this time, imports from the sectors that emit the most CO2. The EU, by opting for a simpler device, has not officially made its mea culpa. But that's what it's all about.
"Legal" diversion
As we reveal after eight months of investigation with the financial support of the Investigative Journalism for Europe (IJ4EU) fund, this system, which was intended to be benevolent towards industrialists, has been diverted from its initial purpose. We looked at steelmakers and cement manufacturers in France and Spain, two sectors that are among the biggest beneficiaries.
The in-depth analysis of the financial transactions recorded by these actors on the emissions trading system (SEQE-EU-ETS) confirms what some have long assumed: the companies have resold part of their free quotas for hundreds of millions of euros, sometimes billions. But, unlike the enormous VAT fraud which had shaken the system in its infancy, causing EU countries to lose 6 billion euros and giving rise to court convictions many years later, the embezzlement of which it is in question takes place in a legal manner.
You have 88.71% of this article left to read. The following is for subscribers only.
---
---