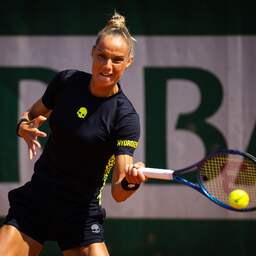 Arantxa Rus was eliminated for the sixth time in a row in the first round of Roland Garros on Tuesday. The 32-year-old from South Holland lost in two sets (6-2 and 5-3) to the Austrian Julia Grabher.
Rus made it through the qualifications in Paris last week, but did not follow up well in the main tournament. The match against Grabher lasted an hour and 25 minutes.
In 2012 Rus reached the fourth round at Roland Garros, but in the eleven years that followed she did not win a single match in the main tournament. The first round was also the final destination in 2013, 2018, 2020, 2021 and 2022 and Rus did not participate in the other years.
This message is being expanded.
---
---