---
May 29, 2023 at 6:42 PMUpdate: 6 minutes ago
Xavi Hernández wants to bring Lionel Messi back to FC Barcelona. The trainer of the Catalan top club has already spoken with the star player about a comeback, he tells the Spanish sports newspaper SPORT on Monday.
"It would make sense for me to bring Messi back," said Xavi, who played with the Argentinian for years. "I am in charge of our team and have informed our chairman (Joan Laporta, ed.) of my desire to get him. I have no doubts about him. He is hungry, a winner, a leader and in addition a decisive footballer."
Xavi admits in the interview that he has spoken regularly with 35-year-old Messi. FC Barcelona's all-time top scorer is currently on a collision course with Paris Saint-Germain and seems to be leaving after this season at the club that picked him up on a free transfer from Camp Nou in 2021. He is regularly whistled by PSG fans.
"Leo has without a doubt been the best player in the club's history," says Xavi. "He still has years to go at the highest level. If he can bring what he brought to the World Cup, he is still an extraordinary player."
"He can give us the decisive passes, assists, danger from set pieces and goals. What not? He could contribute a lot to us. I don't doubt his added value for a second. It depends entirely on him. I think he has it would like."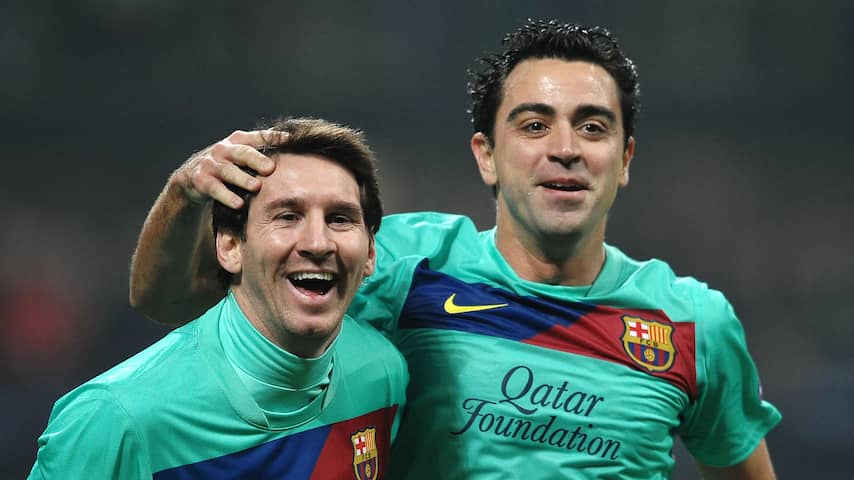 Lionel Messi and Xavi played together for years at FC Barcelona. Photo: Pro Shots
Messi failed to live up to expectations at PSG
Messi had to leave FC Barcelona in 2021 because the legend's million-dollar salary no longer fit into the salary house of the ailing club. This ended Messi's 21-year era at FC Barcelona. In 778 matches he scored no less than 672 times and gave 303 assists.
At Paris Saint-Germain, Messi was brought in as the savior, but the Argentinian could not live up to the high expectations. Although the attacker scored 32 times and prepared 35 goals for PSG, he could not help the club to the Champions League – the big goal of owner Nasser Al Khelaifi. Meanwhile, without Messi, Barcelona finally crowned itself champions again this season.
In recent months, Messi has been booed by PSG fans. They believe that the star player shows much less in Paris than with the national team of Argentina, which he won the world title in Qatar at the end of last year. With his first World Cup, Messi followed in the footsteps of his legendary compatriot Diego Maradona.
Several leading media in France and Spain previously reported that Messi does not intend to extend his expiring contract in Paris. Those rumors became more persistent when Messi was given a disciplinary suspension for an unauthorized trip to Saudi Arabia early last month.
According to the French news agency AFP, Messi spoke there about a transfer to Saudi Arabia, where his contemporary Cristiano Ronaldo is also active. There he could earn between 300 and 400 million euros a year. His father Jorge Messi strongly denied the move. A return to FC Barcelona now seems more realistic than ever.
---
---