---
May 29, 2023 at 8:00 PM
NU.nl regularly gives you an overview of the situation in Ukraine. With this time: Russia hit military targets in Ukraine. Several aircraft were damaged in the process. In addition, Kyiv is being bombarded by missiles that are part of a new Russian attack wave.
Russia said on Monday that its army had hit Ukrainian air bases in night raids and that Ukrainian troops had shelled industrial facilities in Russia. Both sides sought to gain the upper hand ahead of what Kyiv hopes will be a decisive counter-offensive.
The Russian army hit Ukrainian military targets in the western Khmelnytskyi region in a series of attacks. It is not clear whether more than one air base is involved.
The Ukrainian authorities stated that a runway needs to be repaired and that five aircraft can no longer be used. "Work is currently continuing to contain fires in storage facilities for fuel, lubricants and ammunition," said the region's governor.
Kyiv ravaged by new Russian attack wave
Kyiv was bombed for the sixteenth time this month in the night from Sunday to Monday. Most missiles were shot down, according to Ukraine.
Residents of Kyiv took refuge in bomb shelters and metro stations. One person was killed by falling debris. Several people were injured. While Russia is busy with a new wave of attacks, Ukraine is preparing a new offensive. The army is armed with new weapons from the West.
"With these constant attacks, the enemy is trying to keep the civilians in deep psychological tension," said Serhiy Popko, the head of the capital's military administration.
0:55 Play button
Ukraine introduces sanctions against Iran
The Ukrainian parliament has approved sanctions against Iran. That country is accused of supplying weapons as an ally of Moscow.
The approval follows Ukraine's allegation that Iranian Shahed drones were used in the largest drone attack on Kyiv since the start of the war. The Ukrainian sanctions should, according to the parliament, lead to the complete isolation of Iran.
The sanctions include a trade ban on military goods and items for possible military use to Iran, and the suspension of economic and financial obligations.
Ukraine wants demilitarized zone on Russian side of border
Ukrainian authorities want a demilitarized zone of 100 to 120 kilometers on Russian territory along the border with Ukraine after the war.
The zone is needed to protect Ukrainian regions from Russian attacks, presidential adviser Mykhailo Podolyak wrote on Twitter. "This post-war arrangement should prevent a recurrence of aggression in the future and ensure the safety of civilians."
Podolyak made his remarks after the governor of Russia's Belgorod region, which borders Ukraine, called on television for Ukrainian cross-border shelling to stop.
Moscow says Ukraine has stepped up drone and sabotage attacks on targets in Russia as it prepares for the offensive. But Kyiv denies firing at targets in Russia and says the Russians carried out the attacks themselves.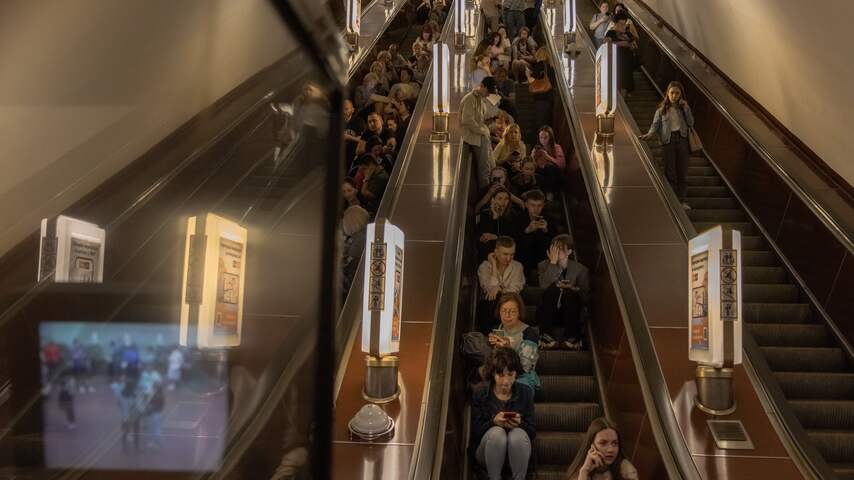 Ukrainians shelter in metro stations in Kyiv until the Russian attacks are over. Photo: ANP/EPAKet be notified of new postsStay informed with notificationsGet notified when we post background footageStay informed with notifications
---
---