For more than forty years, Onno de Dreu (62) from Goes has been the driving force behind the Stichting Hulp Gehandicapten. He almost has a day job on it. The municipality decided to award him.
This article is from PZC. Every day a selection of the best articles from the newspapers and magazines appears on NU.nl. You can read more about that here.
After he suffered a spinal cord injury in a car accident at the age of nineteen and ended up in a wheelchair, Onno de Dreu came into contact with the Stichting Hulp Gehandicapten, founded in 1977, in the early eighties. He visited activities and went on outings. "But I always had some points for improvement," he laughs and looks back with a sense of euphemism. "For example, we once had a holiday week that was quite poorly arranged. Yes, I did say something about that. At a certain point they said to me: why don't you join the board yourself?"
Family support
De Dreu did so, not knowing at the time that he would gradually become the driving force behind the foundation in the years that followed. "I get a lot of support from my wife Wilma and my family," he emphasizes. "It wouldn't be possible without them. The foundation wouldn't be such a great success without the other board members, the activities committee and the permanent team of loyal helpers." The Stichting Hulp Gehandicapten is there – contrary to what the name might suggest – mainly for organizing activities. If the word 'help' fits well with that. "Because with these activities we get many disabled people out of their isolation," says De Dreu. He also regularly provides people with good advice. Sometimes he spends an hour on the phone with someone. "I sometimes feel like a social worker."
About six times a year, the Stichting Hulp Gehandicapten organizes an activity, usually in the Goese Lyceum. These are often parties, where all kinds of artists come to perform. For example, a summer party is planned for June 3, at which, among others, the Zeeland singer Alwin Rennen will be present. Rennen, who also has a disability, has been an ambassador for the foundation since last year. De Dreu spends a lot of time organizing the events. Arranging the artists, making appointments with caterers, making program booklets and making purchases: these are just a small selection of what is involved.
He is also fully active during the activities, including receiving artists and arranging current affairs. After all, something unexpected always happens. He also does the donor administration. "When you see people enjoying such a party, you remember what you're doing it for," says the Goesenaar. "When they leave, they regularly ask when the next activity will be. That says it all. They look forward to it. For some people, our activities are the only things they go to."
Visitors come from far and wide, as far as West Brabant and South Holland. In addition to entertainment, the activities also offer many people the opportunity to catch up with old acquaintances, because shifts regularly take place within the residential groups and daytime activities of the various care providers. Incidentally, people who do not have a disability are also welcome. "We just want a nice mix." New volunteers can always knock on the door of the foundation.
Online platform
When no meetings could be held during the corona period, De Dreu did not give up. Together with others, he started to focus on setting up an online platform for people with a disability in and around Goes, with a new website, news items and videos.
It was Alwin Rennen and a regular visitor to the activities who came up with the idea a while ago to nominate De Dreu for the Frans Naereboutpenning, an award from the municipality of Goes, intended for residents who have made a long-term commitment to society. That is why mayor Margo Mulder suddenly appeared on his doorstep last week to present the medal. Nine years ago, the resident of Goes was also awarded a royal honor for his years of dedication to the foundation.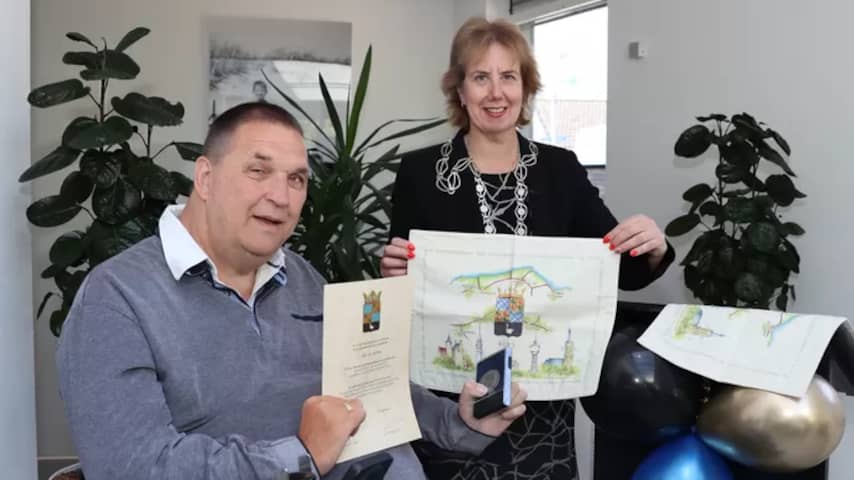 Onno de Dreu received the Frans Naeteboutpenning from mayor Margo Mulder last week. Photo: Coby Weijers
---
---