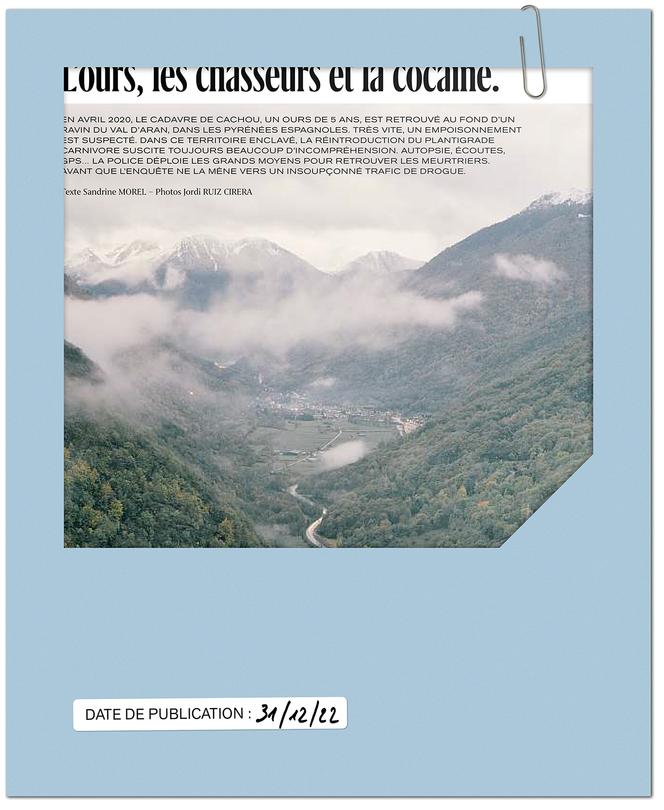 Image taken from the survey published in M ​​Le magazine du Monde on December 31, 2022. PHOTO: JORDI RUIZ CIRERA FOR "M LE MAGAZINE DU MONDE"
What we said
Three years ago, the death of the Cachou bear, in the undergrowth of the Val d'Aran, in the Pyrénées-Orientales, caused a stir. Valuable for genetic diversification
of the species, he was one of the few plantigrades in the region not to have Pyros as his father,
the first specimen captured in Slovenia in 1997 and released to repopulate the mountains that separate France and Spain. Cachou had been accused by breeders and beekeepers of numerous attacks, before his remains were found in a ravine near the town of Les.
The investigation carried out by the Catalan police was considered exemplary. A necropsy had found traces of antifreeze in the animal's urine. Significant means of monitoring and wiretapping have been deployed, in the hope of finding the culprits among six suspects. So many resources that also made it possible to dismantle a cocaine trafficking network operated by Colombians.
Two men were indicted for "crime against the environment", "revelation of secrets" and "abuse of office": the former general councilor in charge of regional planning, José Antonio Boya, and the agent forester Arán Medan. Responsible for monitoring the animal as part of the European program for the reintroduction of the bear, the latter is suspected of having shared the GPS coordinates of the animal with "anti-bears".
Read also: Article reserved for our subscribers The bear, hunters and cocaine: who killed Cachou?
What has happened since?
Since the end of the investigation, in October 2022, justice has stalled. In November, then in February 2023, the lawyers of the two indicted asked for a dismissal, because of "the infringement of the right to a fair trial", because of the "lack of impartiality of the judge of instruction", Cristina Marrero. The magistrate, who led the first phase of the investigation, explained in an article, in 2021, that "a significant part of the population of the area did not understand why it was necessary to protect a bear". Sign, according to the lawyers, of a "biased" instruction.
"The current investigating judge has not ruled either to close the case or to issue the order for remand for trial: everything is paralyzed, insists Eduardo Gil Delgado, the lawyer for the Asturian Fund for the protection of wild animals (Fapas), the first organization to have questioned the hypothesis of a fight between bears, put forward by the administration of Aran. This delay is a scandal. Just like the application
ashamed of the two accused…"
You have 30.11% of this article left to read. The following is for subscribers only.
---
---