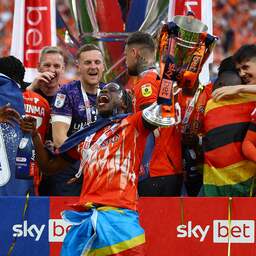 ---
May 28, 2023 at 10:19 Update: 4 minutes ago
He symbolizes the unlikely advance of Luton Town: Pelly-Ruddock Mpanzu. The 29-year-old midfielder was already active on the fifth level ten years ago with 'The Hatters' and will make his debut in the Premier League next season.
"I've played the football," Mpanzu told Sky Sports on Saturday in the celebrations following Coventry City's promotion final victory. "Actually, I should stop."
The midfielder experienced his baptism of fire for Luton in December 2013 in the away game against Alfreton in the Conference Premier, the fifth tier in England. 1,279 spectators witnessed this, eighty thousand less than Saturday at the final for promotion against Coventry City, which had to bow their heads after a penalty shootout.
"At the time, we trained on a field where people walked their dogs," Mpanzu told The Daily Mail earlier this week.
For the midfielder, Luton Town seemed like a temporary solution after failing to break through at West Ham United. But the lease was soon converted into a permanent commitment.
As 'The Hatters' progressed through the divisions, there was one constant: Mpanzu. And that while promoted clubs often renew their selections to be better equipped for the challenge at a higher level.
Unfortunately, this content cannot be displayed. We do not have permission for the necessary cookies. Accept the cookies to view this content.
Change cookie settings
Mpanzu reached the national team of DR Congo
Mpanzu, who was substituted against Coventry on Saturday during extra time, is approaching the four hundred official duels for Luton. Because of his performances with 'The Hatters', he also came into the picture with the national team of DR Congo, for which he played two international matches.
"It's been a crazy journey. I'm a Premier League player now. It will be a party all summer in Luton."
Divisions Luton Town since 2013/2014:

2013/2014: Conference Premier (vijfde niveau)
2014/2015: League Two
2015/2016: League Two
2016/2017: League Two
2017/2018: League Two
2018/2019: League One
2019/2020: Championship
2020/2021: Championship
2021/2022: Championship
2022/2023: Championship
2023/2024: Premier League
---
---