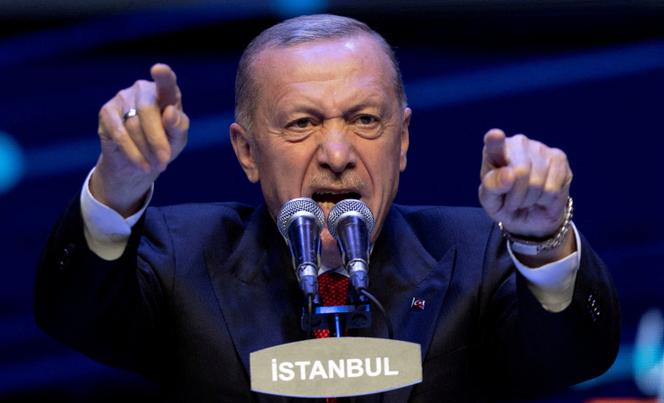 Turkish President Recep Tayyip Erdogan addresses his supporters in Istanbul (Turkey), May 18, 2023. UMIT BEKTAS / REUTERS
The platforms are folded up, the banners put away and the sound systems disconnected. The Turkish presidential campaign ended in an atmosphere of bitterness and verbal overbidding, the excess of which is perhaps explained by the fact that the outgoing president, Recep Tayyip Erdogan, must for the first time indulge, on Sunday May 28, in the exercise of a second round, after twenty years of almost unchallenged reign. With lip service, he had to recognize in public, in front of the cameras, that a video used during one of his meetings was a montage. In a clip, the images suggested that his opponent, Kemal Kiliçdaroglu, was advancing hand in hand with the fighters of the Kurdistan Workers' Party (PKK).
The opposition coalition candidate, who won 44.9% of the vote in the first round against 49.5% for his rival, filed a complaint against the head of state, also summoning him to submit to a debate public with his opponent. After a first week marked by a spectacular hardening of his position on the question of refugees in an attempt to catch up, Kemal Kiliçdaroglu softened his stance towards the Syrians present in Turkey and asked Europe to pay its due: "We we are debating these problems to provide the comfort of Europe, we are going to remedy them, you will see, "he said on Wednesday May 24, in a program for the public only composed of young people. The four hours of recordings have been viewed more than twenty-one million times on YouTuber and host Oguzhan Ugur's channel.
The latest polls, which hardly anyone seems to pay attention to given their inaccuracy in the first round, were released on Thursday. They give, this time, a lead of 5 points for the outgoing president. The Konda Institute projected a victory for Recep Tayyip Erdogan with 52.7% of the vote against 47.3% for his opposition rival.
Read also: Article reserved for our subscribers In Turkey, Erdogan in a position of strength before the second round of the presidential election
Discriminatory media treatment
The same day, despite Kemal Kiliçdaroglu's alliance with the Victory Party (Zafer Partisi), an anti-immigration and xenophobic far-right party, the Peoples' Democratic Party (HDP, pro-Kurdish left) renewed its call to vote for the opposition candidate. "Erdogan was never an option for us," said Pervin Buldan, co-chair of the party. She called for going to the polls to end the "one man rule". On Twitter, ex-co-president Selahattin Demirtas, imprisoned since 2016, reiterated the call from his cell: "There is no third round in this case. Let's make Mr Kiliçdaroglu president, let Turkey breathe. Go to the polls, vote! »
You have 24.97% of this article left to read. The following is for subscribers only.
---
---