---
May 28, 2023 at 5:07 am
There is a good chance that the Eredivisie season will end on Sunday with the least productive top scorer in fifty years. FC Utrecht striker Anastasios Douvikas has eighteen goals at the start of the last round, which is extremely low for a top scorer.
The least productive Eredivisie top scorers ever are Willy Brokamp (MVV) and Cas Janssens (NEC), who both scored only eighteen goals in the 1972/1973 season. If Douvikas does not score in the home game against FC Emmen on Sunday (and Xavi Simons does not score at least twice and Sydney van Hooijdonk does not make a hat trick), that low record will be matched.
It only happened twice in the history of the Eredivisie, which was founded in 1956, that the top scorer did not reach the twenty goals. Except in 1973, it happened in 1989.
At the time, Romário was crowned top scorer in the Eredivisie with nineteen goals, but it should be noted that the Brazilian did not yet play for PSV in the first weeks of the season. He only made his debut at the end of October and only played 24 Eredivisie games in the 1988/1989 season.
Top scorers Eredivisie 2022/2023
Anastasios Douvikas (FC Utrecht) – 18 goals Xavi Simons (PSV) – 17 goals Sydney van Hooijdink (Heerenveen) – 16 goals Santiago Giménez (Feyenoord) – 15 goals Luuk de Jong (PSV) – 14 goals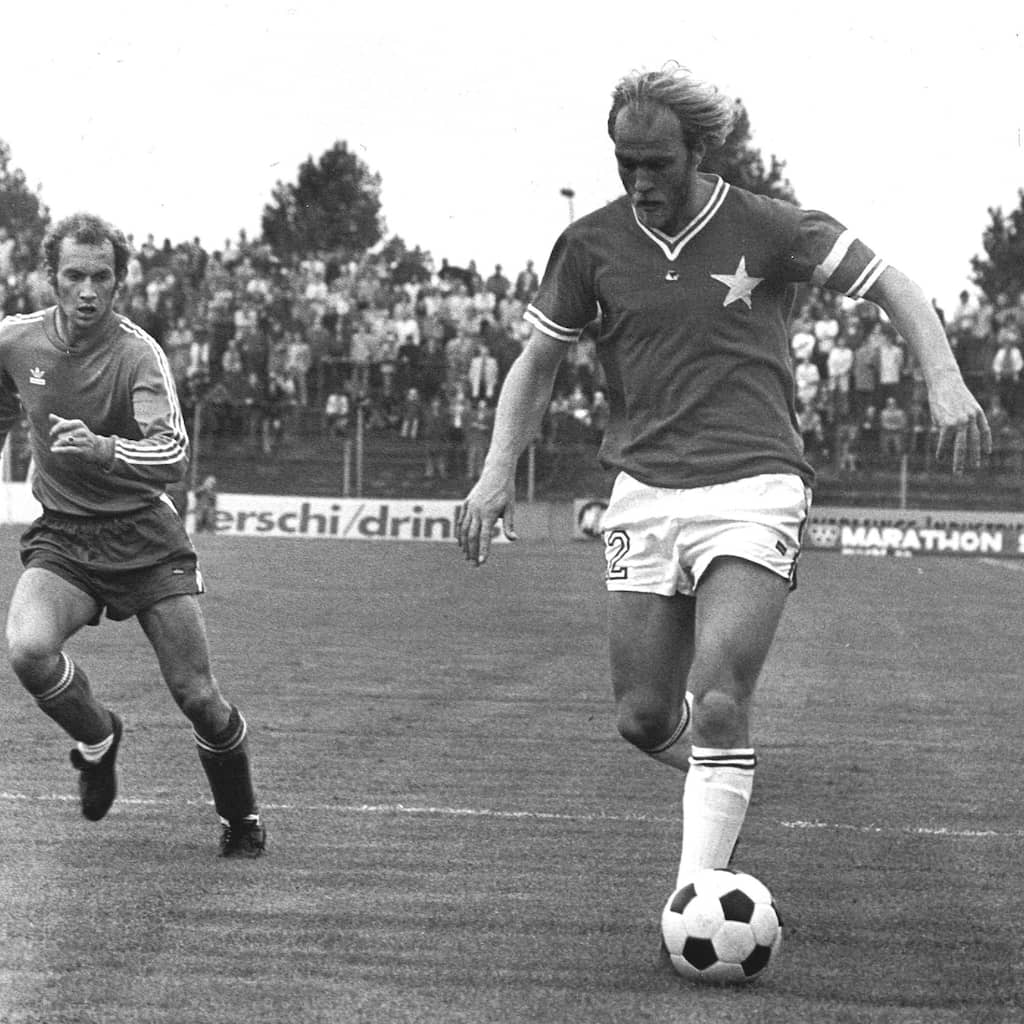 Willy Brokamp scored 'only' 18 times for MVV in the 1972/1973 season. Photo: ANP
Dillen is the most productive top scorer ever
We do not consider the 2019/2020 season, because that year was not completed due to the corona pandemic. Steven Berghuis (15) and Cyriel Dessers (15) were the top scorers when the season was halted in early March.
The most productive Eredivisie top scorer ever is Coen Dillen, who scored 43 times for PSV in the 1956/1957 season. Henk Groot is second on the list with 41 goals for Ajax in the 1960/1961 season.
This century Mateja Kezman (35 goals for PSV in 2002/2003) and Luis Suárez (35 goals for Ajax in 2009/2010) are the most productive top scorers.
The last 10 Eredivisie top scorers
2021/2022: Haller (Ajax) – 21 goals 2020/2021: Giakoumakis (VVV-Venlo) – 26 goals 2019/2020: Berghuis (Feyenoord) and Dessers (Heracles)* – 15 goals 2018/2019: Luuk de Jong (PSV ) and Dusan Tadic (Ajax) – 28 goals 2017/2018: Jahanbakhsh (AZ) – 21 goals 2016/2017: Jörgensen (Feyenoord) – 21 goals 2015/2015: Janssen (AZ) – 27 goals 2014/2015: Memphis (PSV ) – 22 goals 2013/2014: Finnbogason (Heerenveen) – 29 goals 2012/2013: Bony (Vitesse) – 31 goals * Season was stopped after 25 rounds and never finished
Eredivisie round 34 (Sunday 2.30 pm)
FC Twente-Ajax Feyenoord-Vitesse Fortuna Sittard-NEC SC Cambuur-RKC Waalwijk AZ-PSV FC Volendam-Excelsior FC Groningen-Sparta Rotterdam sc Heerenveen-Go Ahead Eagles FC Utrecht-FC Emmen
---
---