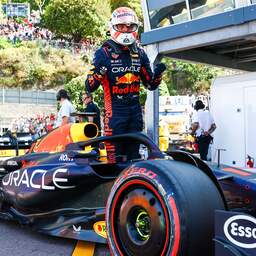 ---
May 27, 2023 at 5:38 PMUpdate: 5 minutes ago
Max Verstappen had to take all the risks in the world on Saturday to take pole position for the Monaco Grand Prix. The Dutchman even hit the guardrail several times in his pole lap, he said afterwards.
"We knew prior to this weekend that it would be quite a bit difficult for us," said 25-year-old Verstappen in the principality. "Yesterday we didn't have the best start, but we improved and got faster as the weekend progressed."
"In qualifying here you have to take all the risks in the world. My first sector in my pole lap was not very good, I knew I was still behind it. So I had to give everything I could in the last sector, I hit even the wall a few more times. But it turned out okay and luckily I'm on pole for the first time in Monaco."
Verstappen was still in fifth place before his last attempt and made a big jump on the times sheet when he crossed the finish line. The Red Bull driver was just faster than Fernando Alonso (second) and Charles Leclerc (third). Sergio Pérez, Verstappen's main competitor in the title fight, stranded in Q1 due to a crash.
Although overtaking is difficult in Monaco, Verstappen does not count himself rich yet. "We need a good start tomorrow," continued the two-time world champion. "Anything can happen in Monaco. Safety cars, rain. There is always chaos here. The car is fast, so that won't be the point. We have to stay calm and out of the chaos."
Verstappen's compatriot Nyck de Vries had his best qualifying of the season and finished twelfth. The Monaco Grand Prix starts at 3 p.m. on Sunday.
---
---