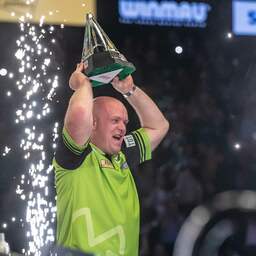 Although Michael van Gerwen wrote history on Thursday evening by winning the Premier League for the seventh time in his career, 'Mighty Mike' himself was not concerned with that record at all. The Dutchman was especially happy that he had won another major tournament.
"That record? It really doesn't interest me at all." The 34-year-old Van Gerwen had just given a number of socially desirable answers to British media when he spoke to a handful of Dutch journalists. "It's fun, but records are there to be broken," he said.
"Some people make a thing out of it, you know? That always bothers me a bit. What's the point? It only adds extra pressure if you start doing that. It has no added value for me. "
But it was not for nothing that mainly the British media highlighted Van Gerwen's record. Until Thursday evening, the Dutchman was level with darts legend Phil Taylor, who won the prestigious darts competition six times between 2005 and 2012.
Van Gerwen passed Taylor by beating Gerwyn Price 11-5 in the Premier League final. Earlier in the evening he had already dealt with reigning world champion Michael Smith (10-8).
Unfortunately, this content cannot be displayed. We do not have permission for the necessary cookies. Accept the cookies to view this content.
Change cookie settings
Van Gerwen leaves nothing intact from Price
Van Gerwen played in the O2 Arena on Thursday evening with his opponents as he did in his heyday. Price, who was seen as the favorite by the bookmakers and also by Van Gerwen, soon realized that he would come home from a rude awakening.
"In one leg Gerwyn was on a 170 finish, but then he didn't throw it out. In the next turn I threw my first two darts in the triple-20 and my third dart in the bull's eye. So 170. I was not out yet, but at that moment I thought: now I have you."
The outside world may have doubted Van Gerwen, but Van Gerwen, as usual, never doubted himself. Not even after he had withdrawn a week ago with a shoulder injury from the last Premier League round in Aberdeen, Scotland. At the same time, Price was in the shape of his life.
"Of course I feel pressure," said Van Gerwen. "But being able to show it at such a moment gives a lot of satisfaction. People say I'm in a lesser shape, but I've reached several finals this year and won tournaments. So it wasn't all that bad."
Van Gerwen received many questions about his injury in the run-up to the play-offs, but emphasized that he was in top shape. "Otherwise I might as well not play like that."
'What am I going to do with the money? No idea'
Thanks to his victory in the Premier League, Van Gerwen was able to add more than 300,000 euros in prize money. The three-time world champion has no idea what he will do with that money. "First of all, of course, I have to pay half to the tax authorities," said Van Gerwen with a grin.
"My manager must of course also have a percentage. And then only a little bit remains…. But no, all joking aside: if you throw well you will be rewarded. At the same time, people who know me know that I I don't care. Because I win these kinds of trophies, the rest will take care of itself."
After a short holiday he will prepare for next week's US Darts Masters. "In eight hours I will fly to the Netherlands and a day later I will fly to New York with my wife. We have three days off, we will make the best of it. Three days off is a lot for me. What am I going to do there? I have no idea. My wife is the boss. I'm going to make the best of that too."
---
---