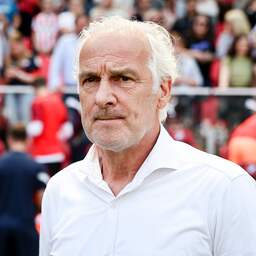 ---
May 26, 2023 at 1:14 PMUpdate: 32 minutes ago
Fred Rutten did not see Ruud van Nistelrooij's decision to stop at PSV at all. The former assistant will sit on the bench on Sunday during the crucial game against AZ. According to Rutten, he worked well with Van Nistelrooij, despite the reports of tensions in the technical staff.
"It hit like a bomb," said the coach on Friday at a press conference at training complex De Herdgang.
"I have worked well with Ruud," said Rutten, who has not spoken to Van Nistelrooij since then. "I did have text contact. I've been in situations like this myself. I know how you feel. You have to let this rest for a while. I'll definitely contact him later, why not?"
Rutten's statement about his good cooperation with Van Nistelrooij is not entirely in line with the words of technical director Earnest Stewart and general manager Marcel Brands. During the press conference after Van Nistelrooij's departure, they acknowledged that there were tensions in the technical staff. Assistant André Ooijer announced his retirement a few weeks ago.
Receive notifications of important developments around PSVBKeep informed with notifications
In addition to the unrest in the technical staff, Van Nistelrooij had to deal with criticism from the group of players, according to a publication by De Telegraaf. On Tuesday evening, in a conversation between the trainer and the club management, it was decided to focus on the match against AZ and only then to talk further. Van Nistelrooij resigned a day later.
Rutten did not know that Van Nistelrooij had a conversation with Stewart and Brands on Tuesday evening. "There are many lines of communication at a club. You are present during some conversations, while others are not. If I had felt that this was coming, I would have gone to Ruud and tried to convince him not to do this ."
Rutten has not noticed any discord in the selection of PSV. "At least I didn't discover it." The coach can have anyone at his disposal against AZ, including left back Patrick van Aanholt who was injured against sc Heerenveen last week.
"The players are all well-paid professionals, but also people. Some can quickly turn the switch and continue. Everyone must now take responsibility."
PSV must at least draw in the hunt for the Champions League
PSV must at least draw at AZ on Sunday to win the ticket for the third qualifying round of the Champions League. The people of Eindhoven have three points more than Ajax, which will visit FC Twente. PSV has a lower goal difference.
For Rutten, the meeting with AZ means his farewell to PSV. On Wednesday it was announced that the ex-trainer of FC Twente and Feyenoord, among others, will also leave Eindhoven after this season.
The top five in the Eredivisie:
1. Feyenoord 33-82 (+52) 2. PSV 33-72 (+48) 3. Ajax 33-69 (+50) 4. AZ 33-67 (+34) 5. FC Twente 33-61 (+37) )
---
---