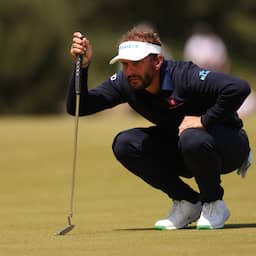 Joost Luiten went round on the second day of the KLM Open in the track average of 72 strokes. The two-time winner of the tournament has a score of -5 halfway through the tournament in Cromvoirt.
The 37-year-old Luiten made a promising start to the largest golf tournament in the Netherlands on Thursday and recorded a score of five strokes under par. That put him in joint fifth place.
Luiten started well on his second round and recorded a birdie on both the third and fourth holes. Halfway through his round, however, he was level par after two bogeys. He then recorded a double bogey on the fourteenth hole. He closed with a birdie on the eighteenth and final hole.
Due to his round of 72 strokes, Luiten lost a few places in the ranking. That could be even more, because for a number of golfers the second day of the KLM Open is not over yet. Spaniard Jorge Campillo is still leading; he impressed on the first day with a score of -9.
In 2013 and 2016 Luiten was the best at the KLM Open. Both editions were played on a different course, in Zandvoort and Spijk respectively. Cromvoirt has been the setting since 2021. From next year, the tournament will return to The International golf course in Amsterdam.
---
---