Idris Elba stars in the brand new bloodcurdling series Hijack (2023– ) from Apple TV+. The thriller series tells the real-time story of a 7-hour flight that is hijacked. The series will appear on Apple TV+ next month and the trailer is now available.
Experienced negotiator
Hijack follows the journey of a hijacked plane during its 7-hour journey to London. Elba plays Sam Nelson, a veteran business negotiator who must use all his cunning to save the lives of the passengers. While authorities are on the ground collecting answers, Nelson's risky approach could just be everyone's downfall.
The seven-part series was created by Lupine writer George Kay and Jim Field Smith (Criminal: United Kingdom (2020)). In addition to Elba, The Good Wife actress Archie Panjabi, Christine Adams, Max Beesley, Eve Myles, Neil Maskell, Jasper Britton, Harry Michell, Aimee Kelly, Mohamed Elsandel and Ben Miles also star in the series.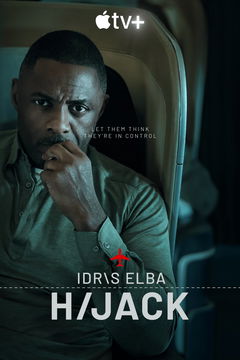 Watch on Apple TV+ • En route from Dubai to London, flight KA29 is unexpectedly hijacked during its seven-hour journey. While authorities on the ground try to figure out what's happening, veteran business negotiator Sam Nelson (Idris Alba) does his best to save all the passengers on board.
The first two episodes of Hijack will be available on Apple TV+ starting June 28. After that, the other five episodes appear every Wednesday.
Beeld: Still 'Hijack' via Apple TV+.
---