After years of scrapped scripts and revised plotlines, comes Five Nights at Freddy's (2023) is now really a step closer with the arrival of the first teaser trailer. The film adaptation of the game of the same name will finally be released in theaters this fall.
Panic in pizza joint
Freddy Fazbear's Pizzeria is supposed to be a happy place, but a new security guard quickly notices that the idyllic restaurant looks very different at night. What follows is a real nightmare…
Written by game creator
In the well-known game, players must survive the night in a dilapidated pizza restaurant full of murderous animatronic mascots. Scott Cawthon, creator of the game, wrote the script for the film adaptation and served as producer. The film was announced back in 2015, but the team repeatedly scrapped ideas. The role of the guard is played by Josh Hutcherson, who we know as Peeta in the Hunger Games series.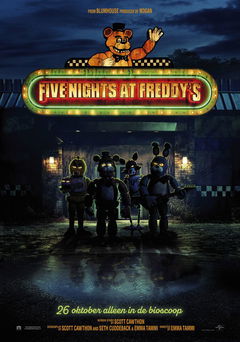 Five Nights at Freddy's (2023)
A troubled security guard starts working at Freddy Fazbear's Pizza. On his first night on the job, he realizes that the night shift at Freddy's won't be so easy.
On display next fall
Five Nights at Freddy's runs from 26th of October in theaters, just in time for Halloween. For a complete overview of all new films that will soon premiere on the big screen, you can go here.
Beeld: Still 'Five Nights at Freddy's' via TMDb
Tekst: Universal Pictures
---