One of the most anticipated films of this year is alongside Christopher Nolans Oppenheimer (2023), Greta Gerwigs Barbie (2023). Warner Bros. now delights us with a brand new trailer where we finally get to see more of Margot Robbie and Ryan Gosling as Barbie and Ken.
Real Barbie in LA
Ken has a crush on Barbie, but a very specific Barbie. He tries to woo her and goes to great lengths to go with her when she decides to go to the real world. Can they survive here thinking they are just puppets? Meanwhile, in our world, people are starting to freak out that there's a real Barbie walking the streets of LA.
Dua Lipa
The new film is directed by Greta Gerwig, who previously, among others Little Women (2019) made. Besides Margot Robbie and Ryan Gosling, the other Barbie and Ken dolls are played by a lot of stars. Dua Lipa shines as the mermaid Barbie, Bridgerton star Nicola Coughlan is also a Barbie and Shang-Chi star Simu Liu plays another Ken.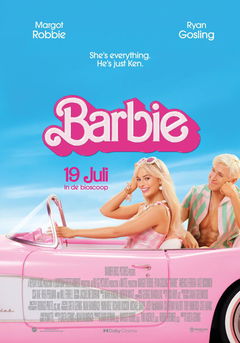 A doll living in 'Barbieland' is banished for not being perfect enough. She goes on an adventure in the real world.
Soon in cinemas
Barbie spins from 19 july in the cinema. For a complete overview of all new films that will soon premiere on the big screen, you can go here.
Beeld: © 2023 Warner Bros. Pictures. All rights reserved.
---