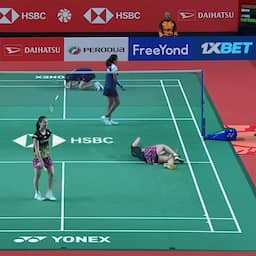 ---
May 26, 2023 at 11:29 am
The spectators of badminton tournament Malaysia Masters in Kuala Lumpur were presented with a rarely seen rally on Thursday (local time). In a women's doubles match, the shuttlecock was hit back and forth no less than 211 times. It is unclear whether this is a record.
The Malaysian women Thinaah Muralitharan and Pearly Tan competed against the Japanese women Rena Miyaura and Ayako Sakuramoto in Kuala Lumpur. In the third set there was a rally of no fewer than 211 stroke changes.
In the end it took more than three minutes before the Malaysian duo managed to get the point. This was celebrated as a victory. Muralitharan threw her racket into the air in joy, while her buddy Tan collapsed to the ground in exhaustion. On the other side of the net, Sakuramoto did the same. The audience gave a standing ovation.
"Winning the rally felt like winning the race," Muralitharan said afterwards. "I was so relieved it was finally over because it was exhausting and we just wanted it to end quickly. When it was over I really needed a break. I threw my racket in the air to get some rest ."
Muralitharan and Tan not only won the point, but also the match: 21-17, 18-21 and 21-19. With that, the Malaysian women qualified for the quarterfinals.
It is unclear whether a rally of 211 strokes has ever been seen before. Last year at the Korea Open, the shuttle was hit 195 times in a women's doubles match. The world badminton federation then spoke of a record. In men's singles, a rally of 108 strokes is listed in the Guinness Book of Records. In the women's singles this number is 73.
Unfortunately, this content cannot be displayed. We do not have permission for the necessary cookies. Accept the cookies to view this content.
Change cookie settings
---
---