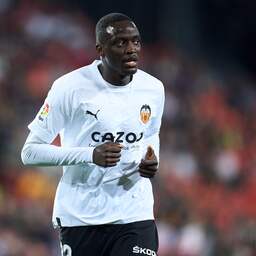 ---
May 25, 2023 at 9:48 PMUpdate: 3 hours ago
Valencia defender Mouctar Diakhaby refused to stand behind a banner against racism before his team's match against Real Mallorca on Thursday. According to Spanish media, the Guinean wanted to make a statement against La Liga.
As for the other matches in the Spanish league, players from Valencia and Real Mallorca posed behind a banner with the slogan "Racists, out of football". It is part of a campaign by the Ministry of Sport, La Liga and the Spanish Football Federation.
While the players of Valencia and Mallorca stood behind the banner, 26-year-old Diakhaby walked past them. He used the moment to stretch his legs and refused to pose for the photo.
Diakhaby himself was involved in a much-discussed incident more than two years ago. The defender stepped off the field during Valencia's league match with Cádiz, because he was allegedly treated racist by opponent Juan Cala. He would have said "negro de mierda (fucking black, ed.)" to him.
The other Valencia players also left the field, after which the match was stopped. After some delay, the game resumed, but Diakhaby was too emotional to continue.
Unfortunately, this content cannot be displayed. We do not have permission for the necessary cookies. Accept the cookies to view this content.
Change cookie settings
La Liga found no evidence of racist remarks against Diakhaby
Cala denied after the match that he had made a racist remark. La Liga launched an investigation, but found no evidence of racist statements by the Cadiz defender.
According to Spanish media, Diakhaby wanted to make it clear with his refusal that he does not understand that La Liga did intervene recently after an incident with Vinícius Júnior. The Real Madrid striker was racially abused by Valencia supporters on Sunday.
Valencia was penalized for this and must leave part of the stadium empty for the next five home games. The club was also fined 45,000 euros. In addition, Vinícius was not suspended for his red card that he had received in the final phase for a slamming movement.
---
---