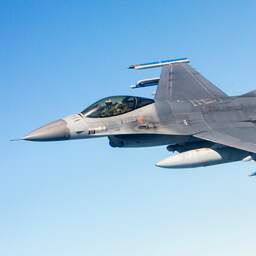 ---
May 25, 2023 at 11:02 PM Update: 2 minutes ago
The Netherlands is working with Denmark and the United States to start F-16 training for Ukrainian pilots this summer.
Defense Minister Kajsa Ollongren announced the intention on Thursday after a meeting with the Ukraine Defense Contact Group. This group includes countries that support Ukraine with military equipment, among other things.
Ollongren is happy with the support for training Ukrainians, she says via Twitter. The Netherlands will lead these training sessions together with Denmark. There has long been talk of F-16 training for Ukrainian pilots. The precise details of this are still being discussed in the contact group, said Ollongren's American colleague Lloyd Austin earlier.
A spokesperson for Ollongren says that the agreements have not yet been finalized. Even the decision to start training would not be final yet. Although that is clearly the intention.
No green light yet for deliveries of F-16s to Ukraine
An important breakthrough was achieved this week, when the United States gave permission for the training sessions. This does not mean that aircraft will also be delivered, the countries involved always emphasize. No decision had yet been taken on that.
Get notified of new messagesStay informed with notifications
Mark Milley, the top general in the US armed forces, says the F-16s will not be a "magic weapon" in Ukraine's fight against Russia anyway.
The US has urged Ukraine not to use US weaponry to attack Russia. Still, according to Milley, it cannot be ruled out that it happened.
Russia claims pro-Ukrainian militias have used US armored vehicles to attack on Russian soil.
Get notified when we post background piecesStay up to date with notifications
---
---