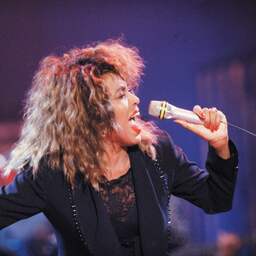 The newspapers are full of it and the talk show tables talk about little else. Tina Turner has passed away at the age of 83. What made her so special musically that her passing has such an impact?
"She did it all and she could do it all. There is no major genre of her time that she has not tackled," Sublime DJ Angelique Houtveen tells NU.nl. "She started with Ike (her ex-husband, ed.) In the sixties, especially with soul and funk. At that time, funk was not that big at all and Tina made a major contribution to that growth."
"She already appeared as a genre of her own," writes Rolling Stone in a profile after her death. "She was too much rock for R&B, too R&B for rock, too tough for girly songs, and her voice too raw for youthful romance."
That voice is precisely what distinguished Turner from her colleagues, says Houtveen. "The female stars of the sixties and seventies, such as Diana Ross and Donna Summer, all had thinner voices. Also beautiful, but not as powerful and screaming as Tina. That made her unique even then."
Turner reinvents himself as a rock star
After the divorce from her husband, by whom she was systematically abused, Turner is almost dismissed by the music industry. But in the early 1980s, an impressive resurrection followed.
"Tina Turner not only delivered the greatest comeback in music history, she invented the whole concept as we know it. She became a solo superstar at 44. Things like that just never happen," said Rolling Stone.
"When she became a figurehead for rock 'n roll in the eighties, she ignored all racial norms and what was expected of women," says Houtveen. "She just stood there between The Rolling Stones and David Bowie, but didn't emphasize how groundbreaking that was. She just did it."
"She was ahead of her time," says Rolling Stone. "The concept of classic rock didn't exist yet. Rock culture was so stuck in the idea that everything had to be youthful and new that its retro approach was actually fresh. It's actually a Tina invention: the black grandma who put rock music for dads on the map. put."
Unfortunately, this content cannot be displayed. We do not have permission for the necessary cookies. Accept the cookies to view this content.
Change cookie settings
On stage she was never an old woman
Houtveen finds it admirable how Turner, despite her age, can effortlessly keep up with what was then the trend in the eighties. "Record companies thought she was too old, but she managed to appeal to the young people of that time."
"She understood the MTV generation very well and went along with her zeitgeist. For example, she managed to score in the nineties with Goldeneye, another iconic song. She never came across as an older woman standing on a stage singing. Certainly not with her energy."
Houtveen expects What's Love Got to Do with It? the song is one we'll still be listening to decades from now. "That song has become such an anthem for freedom and the idea that sex doesn't always have to be linked to a relationship. That song will continue to be important."
The Sublime DJ sees Turner's influence on contemporary stars, and Beyoncé in particular. "What she puts down in terms of performance is clearly influenced by Tina. In terms of star status, Beyoncé and Whitney Houston are the only two who can come close anyway."
Unfortunately, this content cannot be displayed. We do not have permission for the necessary cookies. Accept the cookies to view this content.
Change cookie settings
---
---