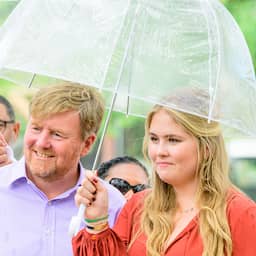 The threats against Princess Amalia have had a major impact on the royal family. King Willem-Alexander tells in the podcast Through the Eyes of the King that the situation has "hit hard in our personal lives".
The head of state thinks it is "nice to see" how his children handled the situation. That although, according to him, Amalia "couldn't do anything anymore" and could no longer have a student life. "But as parents it really eats at you."
Last year it was announced that Amalia could not live in Amsterdam, her study city, due to threats. "The uncertainty, the lack of freedom, that is not the way you want to raise your children and what you want to pass on to your children," says the king.
According to Willem-Alexander, Amalia talks well about it, "but it doesn't give joy in life or anything. That's why it should be over as soon as possible".
In the podcast Through the Eyes of the King, Willem-Alexander and radio maker Edwin Evers look back on the past ten years of his reign. Thursday's episode covers the year 2022 and part of 2023. It's also the last episode.
---
---