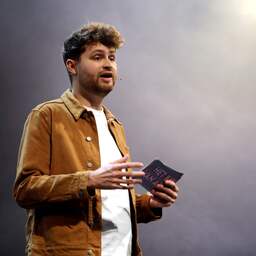 The police now have five suspects of threatening and insulting writer Pim Lammers in their sights. Four suspects have already been heard. The police will talk to a fifth person.
The intention is that the police will soon transfer the files to the Public Prosecution Service (OM). The judiciary then decides whether the suspects will also be prosecuted. Lammers will speak to the public prosecutor about the case at the beginning of June.
Lammers recently resigned his assignment for the Children's Book Week because he had received death threats. These followed online attacks over an adult story nearly a decade ago. The story written by Lammers is about the relationship between a teenage boy and his trainer.
The fuss arose after a Christian lobby group, presenter Monique Smit and model Kim Feenstra shared a few sentences from the story online and without any context.
According to a spokesman, the police are taking the matter very seriously. "Threat is a serious and criminal offense. These individuals thought they could get away with online threats against a writer. Free speech is a great asset that we want and must protect and guard."
---
---