---
May 24, 2023 at 9:47 PMUpdate: 3 minutes ago
Real Madrid defeated Rayo Vallecano 2-1 in La Liga on Wednesday. Karim Benzema helped the home team with a remarkable goal. For example, 'de Koninklijke' ended a number of unpleasant days on a positive note.
The 1-0 in Estadio Santiago Bernabéu fell fifteen minutes before the break. Rayo Vallecano thought he could defend a dropped ball due to injury treatment, but Real Madrid had other ideas. Federico Valverde released Benzema in front of the keeper and the French super striker rounded off. Protests from the visitors had no effect.
Rayo Vallecano straightened his back and still seemed to get a point when Raúl de Tomás shot the equalizer against the ropes in the final phase. But less than five minutes later, Rodrygo scored after a smooth attack by Real Madrid: 2-1. Despite a few chances for Rayo, no more goals were scored after that.
This is how Real escaped a loss of points after a few hectic days. On Sunday, the 1-0 defeat at Valencia was completely overshadowed by an incident involving Vinícius Júnior. The Brazilian was treated racist by fans of the home club. The emotional Vinícius made a striking movement in the final phase and was sent off for this.
That card was later waived, but Real had had enough. The Madrid club reported the racism. Meanwhile, Valencia was penalized by the Spanish federation.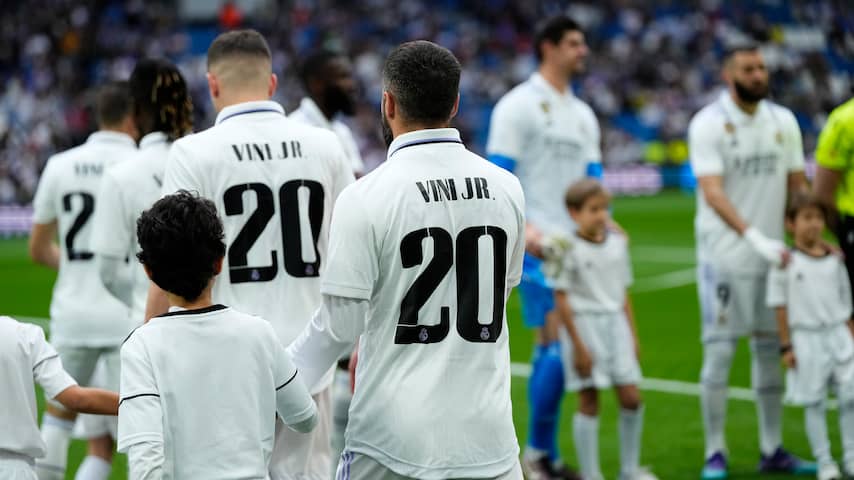 The Real Madrid players were in Vinicius' thoughts. Photo: Getty Images
Players reflect on events surrounding Vinícius
The events reverberated on Wednesday evening. Vinícius was missing from the squad due to a knee injury, but his teammates hadn't forgotten him. They all wore a shirt with his back number (20) at the turnout. Moreover, after his winning goal, Rodrygo was clearly with his compatriot, who was watching from the stands.
Real Madrid rises back to second place with the victory, although fellow townsman Atlético Madrid can get over it later in the evening with a win at Espanyol. Not much more than honor is at stake here. Barcelona has been champions for a long time, and both Real and Atlético are already assured of a place in the Champions League.
Villarreal won 2-0 against Cádiz and thus has a chance of direct qualification for the Champions League. Sevilla was damaged in the battle for European tickets by a disappointing 1-1 draw at relegated Elche. In addition to Espanyol-Atlético Madrid, Real Betis-Getafe is scheduled later in the evening.
View the program, the results and the position in La Liga
---
---