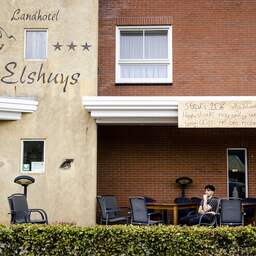 ---
May 24, 2023 at 7:11 PM
State Secretary Eric van der Burg needs more help from municipalities in the very short term with the crisis in asylum reception. He wants to prevent asylum seekers from having to sleep outside again at all costs, as was the case at the Ter Apel application center last year. "In extreme cases, asylum seekers will also be accommodated in hotels, if necessary without being asked."
The State Secretary wrote this in a letter to parliament on Wednesday. Van den Burg has promised that he will prevent problems at Ter Apel this year. Asylum seekers will be housed elsewhere anyway. That is why he once again calls on municipalities to report both small and large temporary reception locations as quickly as possible.
In the letter to the House of Representatives, the State Secretary emphasizes once again that the pressure on asylum reception has been high for some time. And although Ter Apel is not yet full, the parties are watching out for that. For example, Assen announced earlier in the day that it will use a crisis emergency reception location as a 'waiting room'. This means that asylum seekers who will soon not be able to go to Ter Apel can stay there.
Municipalities are no longer allowed to reserve beds for specific target groups
Van der Burg also writes that municipalities should make fewer demands on asylum seekers. At the moment, many beds are said to be empty because municipalities only want to make them available to certain target groups, such as families and women. Single men are refused.
In extreme cases, Van der Burg also wants to circumvent these requirements of municipalities and send asylum seekers – regardless of their gender or family status – to reception locations.
Measures are also being taken at Ter Apel. There, the aliens police will be scaled up in the short term, writes Van der Burg. This department is responsible for the identification and registration process at Ter Apel. This summer, the police will, among other things, start working with people from outside the force, who will be directed by officers.
---
---