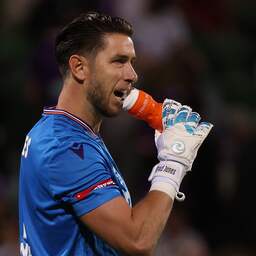 Brad Jones puts an end to his career at the age of 41. The keeper experienced one of the highlights of his career in 2017 by becoming champion with Feyenoord.
"It's time to put my gloves away and end a 25-year global adventure that I could only dream of as a little boy," Jones wrote on social media on Wednesday.
Jones was brought to the Netherlands by NEC in early 2016. After a strong six months, the Australian was signed by Feyenoord, where he also became first keeper due to an injury to Kenneth Vermeer.
In his first season, Jones became champion with the team from Rotterdam. A season later, the Johan Cruijff Shield and the KNVB Cup were also won with the experienced goalkeeper in the team.
After two years at Feyenoord, Jones made a lucrative move to Saudi Arabia. In the summer of 2021, he returned to his home country to play for Perth Glory. Before his period in the Netherlands, Jones wore out several English clubs; he was reserve keeper at Liverpool, among other things.
Jones doesn't know what he's going to do now that he's retired. "But I hope to remain active in football in any way," he concludes his message. "I want to remain part of the most beautiful sport there is."
---
---