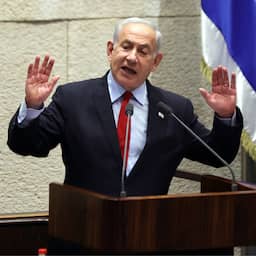 ---
May 24, 2023 at 06:29 Update: 2 minutes ago
The Israeli parliament on Wednesday approved the budget for the coming political year. It was uncertain whether that would happen. Major protests have been taking place in the country against the policies of Prime Minister Benjamin Netanyahu for months.
Parliament, the Knesset, passed the budget with a narrow majority. 64 MPs voted in favour, 56 against.
Approving the budget will allow Netanyahu's government to spend $121 billion this year. Next year that amount will increase to 129 billion euros.
The approved budget gives Netanyahu some breathing space. The prime minister will try to unite his supporters and opponents in the coming period to continue his policy.
Netanyahu and his right-wing coalition want to limit the power of the Supreme Court. For example, the Knesset would have to approve the appointment of all judges.
The coalition's plans met with strong opposition from opposition parties and Israeli citizens. For months, tens of thousands of Israelis took to the streets almost daily to protest against the plans.
Judicial reform divisive in Israel
Defense Minister Yoav Gallant was fired by Netanyahu in late March. Gallant had openly called for the controversial reforms of the judiciary to be abandoned. His resignation was later quietly reversed.
Parliament has yet to debate the reforms. Opponents point to the huge protests among the population.
Far-right coalition partners are threatening to cancel their cooperation with Netanyahu if the reforms are called off.
According to a spokesperson for Israeli Police Minister Itamar Ben-Gvir, the issue will be discussed at the end of July. Then parliament returns from the summer recess.
Receive notifications of important news about Israel. Stay informed with notifications
---
---