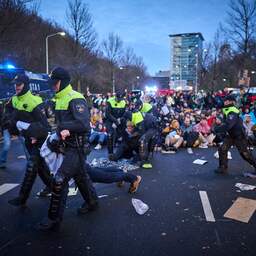 ---
May 23, 2023 at 2:47 PMUpdate: 3 minutes ago
The area ban of five climate activists from Extinction Rebellion was lifted on Tuesday. Due to the ban, the five activists could not participate in blockades of the A12 in The Hague. The court finds the measure 'disproportionate'. Another demonstration is planned for Saturday.
The OM imposed an area ban on the activists in February because they called on social media followers to join the A12 blockade. According to the Public Prosecution Service, this led to nuisance. In April, the measure was extended by three months, so that the court could assess whether the five had committed a criminal offense in the meantime.
But the court calls the extension of that measure disproportionate. According to the judge, the area ban could not prevent the previous blockade from taking place, and it was peaceful. The area ban also limits the freedom of the activists, the court concludes.
The court has not yet decided whether the activists have committed a criminal offense. That judgment will follow in July. According to the court, that question is separate from the ruling on the extended area ban.
Extinction Rebellion wants to get rid of fossil subsidies
Extinction Rebellion wants to draw attention to the climate with their action. The action group demands that the Netherlands put an end to 'fossil subsidies'. These are tax benefits that make it interesting for companies to work with fossil fuels (such as natural gas and oil).
According to economists and activists, the Netherlands annually spends 17.3 billion euros on these subsidies. The cabinet speaks of 4.5 billion.
The activists point to the consequences for the climate: a lot of CO2 is released when fossil fuels are burned. And that in turn contributes to global warming. "We want to get rid of the subsidies, but that is not possible immediately," said climate minister Rob Jetten earlier.
---
---